09 Oct

Big Head!

No, not you – I meant the Sirui K-30X ball head that just came into the stores. The one that convinces me that the mantle of studio equipment manufacture may be passing from Europe to a point further east.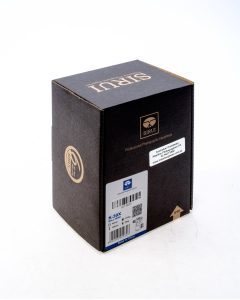 This is no small thing to say. Just as the high-quality camera manufacturing business went from Europe and America to the far east, so now the accessory business may also be taking its turn. I can only depend upon the evidence of what I see…and this ball head is something to see.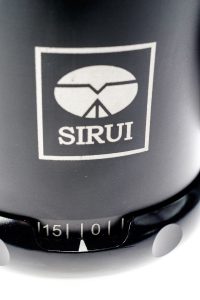 At the outset I must say that I am a loyal Gitzo user. A big Studex 5, a three-way head, and as many accessories as I could gather from eBay to supplement it, mean that I do not seriously have to look at a new tripod for studio use – ever.  But it all came at a cost, and with Gitzo that cost is high. I'm paid up, but you might not be.
The Sirui ball head is a product more of careful machining practice and observation than it is of breathtaking geometric design. You'll recognise the shape of it instantly. What you'll be delighted with, however, is the execution of the thing. The casting and machining seem to be flawless, and the ball is the smoothest-turning one I have ever seen. Of course this is also partially because it is a very large diameter – more area to support weight and less force needed to clamp it.
Unlike some other designs, the basic body and clamping mechanism has not been radically re-designed just to get a new patent out there. You don't have to adjust to new movements to get the same old positions that you always needed. If you knew how to run a ball head before, you'll know how to run this one.
Having praised the ordinariness of it, I must point out one or two features that are outstanding: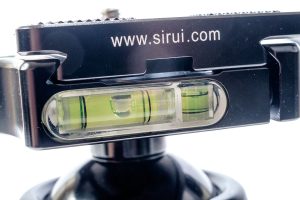 a. The two-axis bubble level in the side of the mount clamp plate.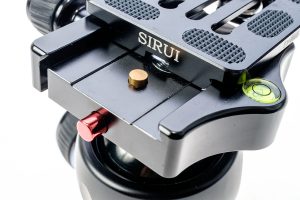 b. The safety button and stud on the Arca-Swiss sized jaws. For anyone who has ever seen a camera disappear sideways on the way to the floor, this is a comforting sight. You can still smash your equipment but you have to work a great deal harder to do it.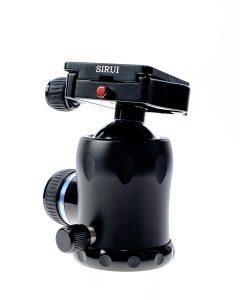 Looking at the finish on the K-30X tells me that the cycle of manufacture has come a long way from crude castings and awkward angles. The device is actually beautiful, and the fact that it functions as well as it does means that beauty is more than skin-deep.