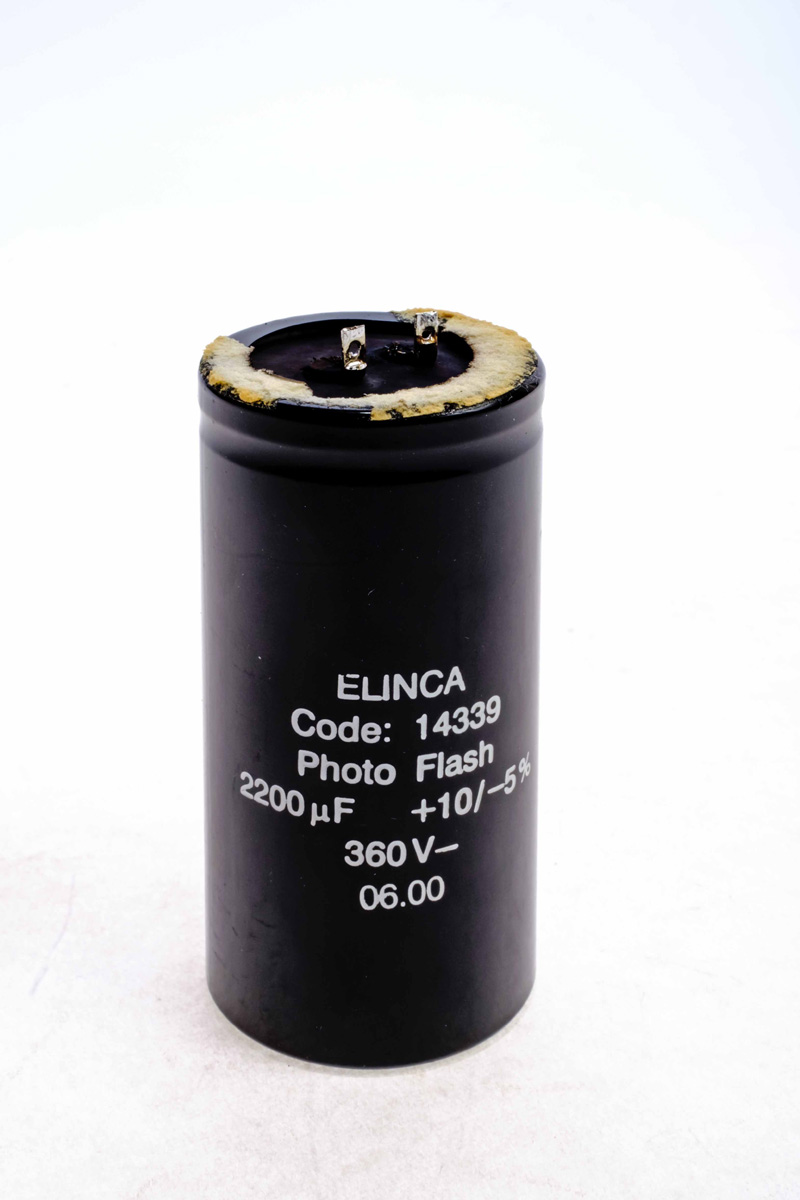 15 Sep

Where's The Kerboom?

There should be an enormous Kerboom…

You'll have to do your own Marvin the Martian and Bugs Bunny voices for this mental image, as we do not have an audio link yet. Just as well – you would not want to hear what I heard in the studio last week.

The Elinchrom EL250 strobe units I use for studio illumination get a fair old workout – they have been in service since the 1990's and have rarely let me down. This is probably because they do not get taken out of the place much these days – I use speed lights for field shots. It's like the business of a refrigerator – if you leave it undisturbed in the kitchen and do not move house, it can sit there chugging away for absolutely decades. It is the shifting around that breaks the seals and disturbs the motor.

There are generally only two things that go wrong with the stobes – the flash tubes eventually burn out, and the main capacitors go faulty. I've had both things occur and of the two, the caps are the most frightening.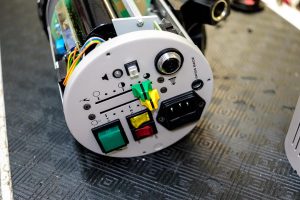 The first occurrence of this was completely unexpected. I was doing a standard portrait shoot with two lights and one of the main power capacitors – the black cylinder you see in the pictures – had an internal failure and arced over in itself. It went off like a .38 pistol shot. The poor girl who was the photographic subject rose a good 6 inches out of her seat. As she was the same person upon which the backdrop holder and toll collapsed one day, it gives you an idea what her luck is like. I've avoided asking her back again as these things run in threes and I am starting to get nervous.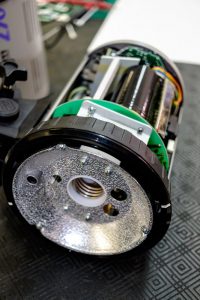 Anyway, this EL250 was kind enough to give me warning this time during a product shoot. One shot produced a sharp electrical crack inside it, and a second trial exposure to confirm it was similar. I demounted and replaced it and brought it into Camera Electronic for analysis by Daniel, our technician.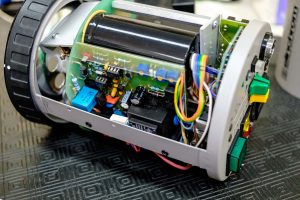 Daniel is a brave man – I know what large electrical capacitors can do when they discharge. He's a skilled one too, as he can get down in through the myriad connections of  a studio head to confirm or deny the problem before it gets worse. I'm qualified to run the back panel of the flash and occasionally to insert the umbrella in the front, but he is the explorer for the rest of it.
Note on the terminals of the capacitor that there is a black burned appearance where it was starting to arc over.
Happy ending to the tale is a replaced cap, a tested and certified unit back in my hands, and complete operation again in the studio. It did not cost a fortune either, and was done in a week. And Daniel is not covered in burns and bandages. I think we all had a win.
Now for you? Is your studio flash shooting regularly, or does it have a little sad now and then? Is it shooting to a consistent colour temperature each time? Are the level settings repeatable? Is there a crackle or hum anywhere? Any odd smells or excess heat? If you have any suspicions at all, now is the time to bring the things in to the Camera Electronic repair department and head off incipient trouble.
No Kerboom.