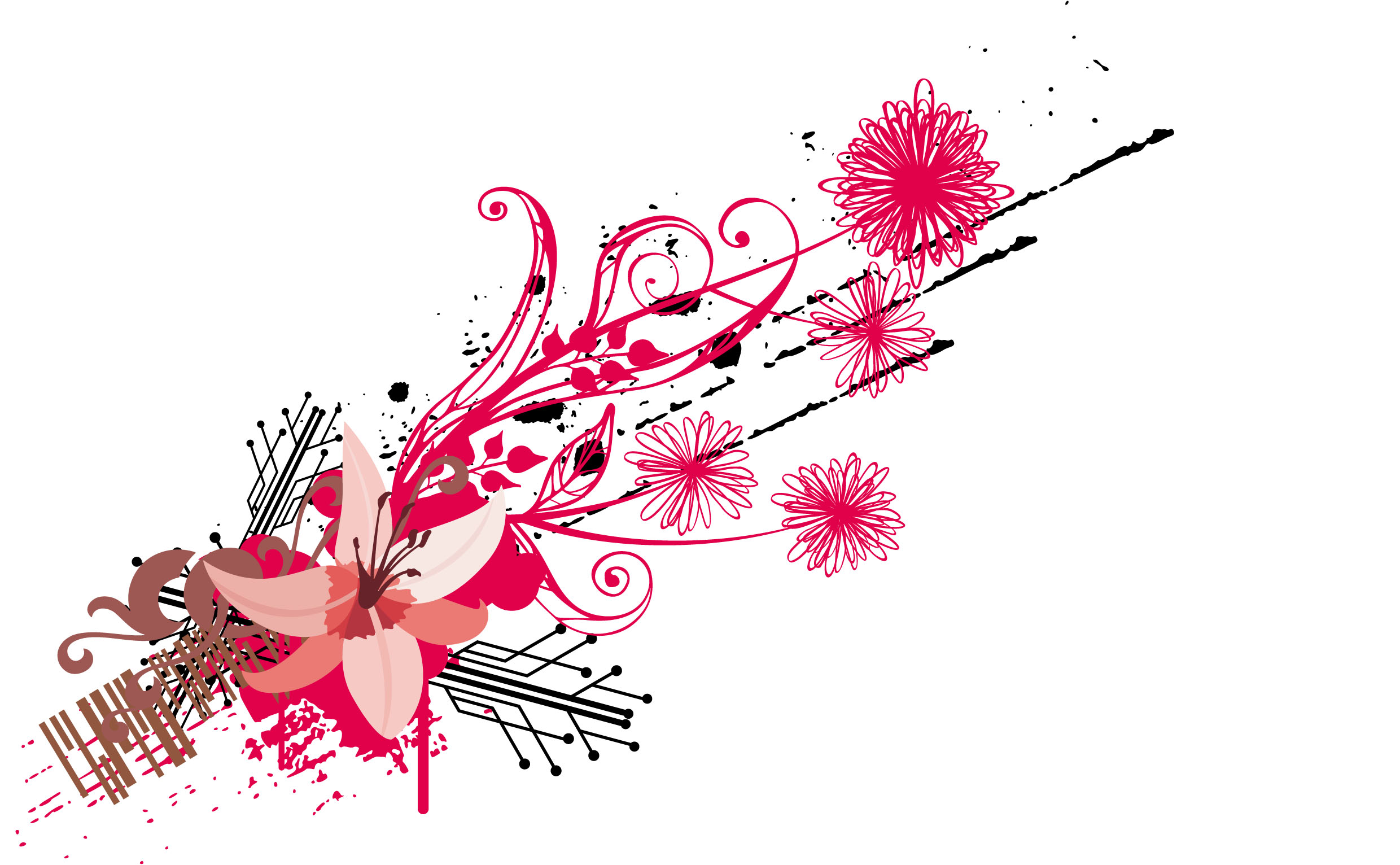 25 Aug

The Waiting Room…Part Two

In my dentistry days I kept a good supply of magazines in the waiting room. Fresh ones, too. None of that old National Geographic or Readers Digest rubbish. I had my receptionist regularly get two women's magazines, a car mag, and Time, as well as whatever hobby stuff piqued our interest. It was a business expense – and I particularly liked the magazines with big pages and absorbent paper as you could mop up blood spills with them.

So on to the next leaflets sitting on the front desk – by the way, these are all free, so snaffle a few the next time you are in the place. Some of them are time-sensitive and bear quick reading, and some are universal. The thinner ones can be useful if you have gaps between your teeth and have been eating chicken or silverside.

a. The Exotic Tour – India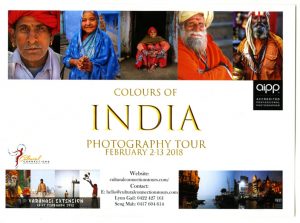 This offer is for February 2-13 2018 and it is the Colours Of India Photographic Tour with Seng Mah and Lynn Gail. AIPP Accredited Professional photographer, you'll note.
The flyer is gorgeously printed and the colours are all you could hope for…but there is nothing printed on the back. You'll have to go to the website:     culturalconnectionstours.com/ to see more.
If you'd like to get into email contact with the organisers please use:
hello@culturalconnectionstours.com
Or one of two phone numbers:  0422 427 161    or    0417 604 614
I suppose you could turn your camera to mono, and refuse to use colour just to be cantankerous, but I'd leave it on RAW and just convert from colour to B/W when you get back…
b. The Closer To Home Contest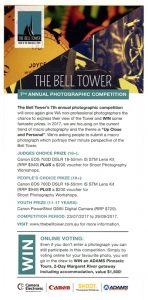 Every year there is a photographic competition centering around the Bell Tower down on the Perth Foreshore. You must have seen it there, because this is the 7th year of the contest. It hasn't fallen down yet…
This year they are going to look closely at the entries as the theme is " Up Close and Personal ". There are three very good prizes of Canon DSLR and compact cameras and Shoot vouchers on offer and as it is for non-professional shooters it means that everyone has a good chance. Note that one of the prizes is for a youth section – 11-17 years.
The competition has been going on since 23rd of July and finishes on the 29th of September. You've still got a good deal of time to go stalk the tower, get in close, and get a good shot. But don't leave it until the last 1/125th of a second…
Visit:   www.thebelltower.com.au for more information
Note: Canon, Camera Electronic, The Belltower, and Adams Pinnacle tours are all providing prizes for this.
Please do not attempt to push the tower over just to get a spectacular shot. It cost a lot of money.
c. The Club Contact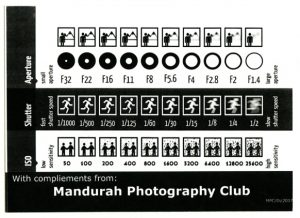 Well, I do like their style. Mandurah Camera Club wants to contact new members for social events, workshops, mystery bus tours, and all-in monthly photo competitions. I saw one of these as a guest judge and it was a lot of fun. A plate of food and ringside seat for the equipment debate…
Naw, they had a good night and I suspect that all their events are happy things. Now that the freeway goes there, travel to the club is not a problem.
Contact them:   www.mandurahphotographyclub.org
And while you are at it, look on the back of their card for a surprisingly useful visual chart of ISO, aperture, and shutter speed choices shown in diagrammatic form. You can pick up tips on noise, blur, and depth of field just from the pictograms.