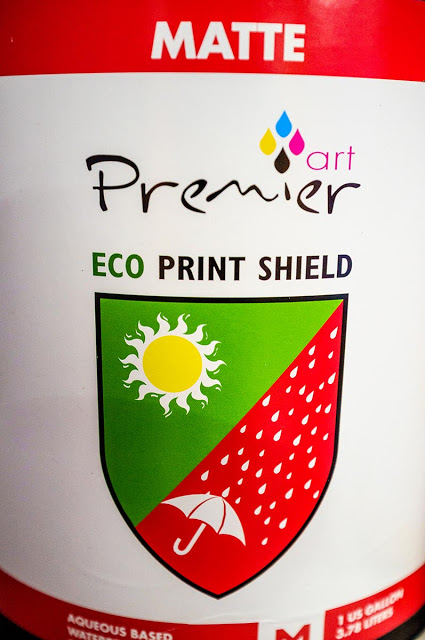 26 Jan

The Giant Economy Size

We sell lots of things in Camera Electronic that are intended to be small; Olympus cameras, Gitzo traveller's tripods, Metz LED lights. But we also sometimes lash out and get the Giant Economy Size. Case in point: The Premier Eco Print Shield cans.

These are a liquid coating for your inkjet paper and canvas prints that will stop the UV rays from messing with the colours – they also stop airborne pollutants and moisture from ruining the surface of the print. This may not seem important if all your pictures are on your iPhone or 6 x 4 postcards in a shoe box…but the big boys and girls who print out on large format printers and frame their exhibition work know different.

Now the statement that something stops UV damage completely is a difficult one to make – particularly in Western Australia where we manufacture ultraviolet radiation for export. You have only to listen to the weather reports every day to realise that our WA UV index scale starts at " Extreme " and goes up from there. About the only complete UV protection for anything is to put it inside the turret of a Sherman tank and close the hatch…

But the Premier Eco Print Shield does help. It can make the difference for an interior display between a year's safety and 5 years. If you are selling your work, that is important…it gives you time to get away.

Two finishes in stock – Matte and Satin, and you can spread it with bush, roller, or spray gun. If you choose the last mode of delivery you will need a gun with a wide throat to get this solution out…and make sure that you clear and clean your gun between applications. This is thick stuff.

If your needs are more modest, there is also the Hahnemühle spray in aerosol cans – some pros rely on this exclusively.

Note to those people whose entire portfolio is on their iPhones, iPads, or the 8-year old computer that seems to be a little slower at booting up these days…Start to print out some of your best work. The thrill of seeing it in the hand and on the wall is reward enough for your trouble. And people will think of your output in more concrete terms when it is hanging off the concrete.

Plus…for those with the entire portfolio on the Fisher-Price My First Hard Drive…remember the old Bond's underwear ad slogan…" One day, you're gonna get caught..".