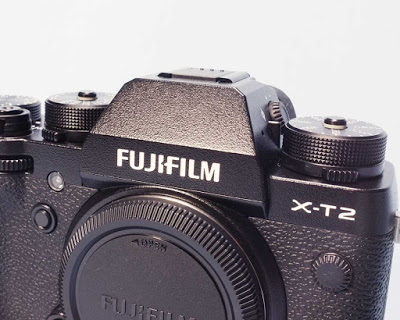 07 Oct

The Open Doors To Success On The Fujifilm X -T2

This week has been a Fujifilm parade as I investigated the new X -T2 in the studio. I observed a number of useful design features about the body:

a.
There are two card slots separately accessible at the side of the camera. No more fumbling under a tripod mount when it comes time to change cards.
b.
The card compartment door is weather sealed and lockable. No more flying open when least expected.
c.
Bless their hearts, the Fujifilm designers have given us a tiltable LCD screen that moves to the right for vertical shots. Also up and down for waist-level shots. We can be discrete with portrait orientation and not have to try to peer sideways at the screen.
d.
The ISO and shutter speed dials have central locking buttons. These in their turn have grey visual flags to tell us they are up or down.
e.
There are two removable rubber hatches under the base of the camera – the one near the battery door is for a cable when you fit a battery-replacement adapter. The square one on the left is an escape hatch for the crew in case they are attacked.
Note that the heading image shows the textured surface of the black version of the camera. Very handsome and hard wearing.