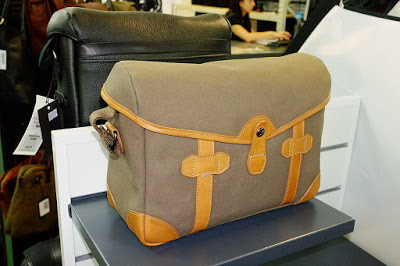 02 Mar

The Lazy Man's Guide To Bag Illustration – More Barber Shop

I called in to Camera Electronic on a day when I was taking public transport and could not spirit the latest Barber Shop bags off for studio illustration – so unfortunately you'll have to put up with in-shop snap shots.
You'll remember the leather version – well there are two smaller messenger bags called " Page Boys"…presumably based on the the hair style known as the Page Boy bob…they have much the same shape as the larger one but are in canvas with leather re-enforcement. To my mind better looking, but then looks are a matter of taste – in any case, as they are just a little smaller, they are a lighter weight as well.
If you are going to go the full tourist/adventurer route but want to do it with elegance rather than looking like you are bound for a RM yomp, try the two back packs for size. Again with the canvas construction and leather reinforcement…and I noted that the shoulder straps seemed to have some sort of heavy felt padding on the body side.
The design of all their range seems to be based upon using natural materials and straightforward construction techniques – to a person who likes clean and simple design in the camera and lenses I use, this has a massive amount of appeal. Simple design, well made, is timeless, and these sort of products will never look like last year's craze – if you get one you can outlast your friends and relations' new shopping sprees.
Come in and try them, and they are also available on our on-line store.