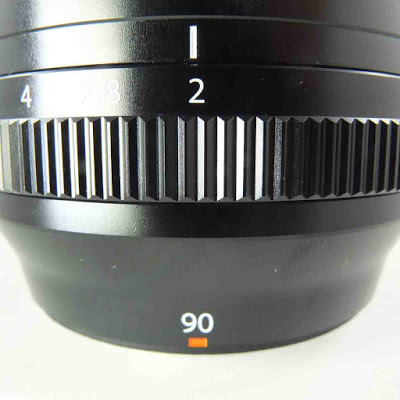 06 Jul

90 Over 2 = 1/4 @ 600 – The New Fujifilm Mathematics Explained

Pay attention class.

You will see the illustration at the top of the post of the new Fujifilm Super EBC XF 90mm f:2 R LM WR lens. The one we have here in the shop – right now. For sale to Fujifilm users who have X-Pro1, X-E1 and 2 , X-T1 and X-T10 cameras.

The construction is superb, as we have come to expect from Fujifilm. The focusing with the X-E series and the X-T series is blisteringly fast and snaps in. The lens is not excessively weighty.
Close focus is 600mm and at that point you get a quarter of the human face – in precise detail.
I should regard this as currently the definitive Fujifilm lens for head and shoulders portraits as well as work in low light. Better it does not get.
Please note that the classic Fujifilm styling of the lens means that there is little external show – it is all buiness. Good business.