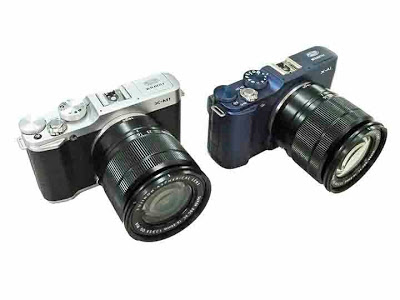 14 Nov

Fuji Introduce An Air Force And A Navy Version Of Their Camera

Well that was a flat-out lie, but you must admit from the look of the things that one looks as though it is land-based and one looks as though it flies off a carrier. The truth is a little more complex.
The silver camera is the Fuji X-M1 fitted with their 16-50 mm f:3.5-5.6 OIS lens – a beautiful all-round piece of glass. The lens delivers the same angles of view that we would expect from a 24-75 lens on a full-frame camera. It is very well built.
The X-M1 is based around the new Fuji X-Trans sensor with a slightly different arrangement of the colour sensors on its surface from the standard Bayer-array that other manufacturers fit. Users can see an increase in colour fidelity and low-noise sensitivity even in jpeg images.
Here I must put a personal note in – I use a Fuji X 10 camera and have never even bothered to shoot RAW with it – though it does do RAW – as the jpegs were so good right from the start. Anyone who gets any of the Fuji cameras would be well advised to test out the jpeg for themselves before switching to RAW. You might find it does all you need without using up extra memory.
Any road, the Fuji X-M1 with that lens is about the $ 1049 mark, give or take an argument
or two.
The blue Navy version is actually the Fuji X-A1. Same body, I think, and same lens, certainly – but the sensor in this one is the more conventional Bayer-array. I'll have to refer you to DP Review to see the complexities of that but it may be that your photo needs would be well met by this level of light handling.
If so, pocket the difference in price – the Fuji X-A1 is about $ 849 – or spend it on a second lens for the camera. I'd pick the 14mm myself, but then I'm a studio and closeup shooter and I'm biased.
Not biased about the Navy or the Air Force, though. Both fine services.