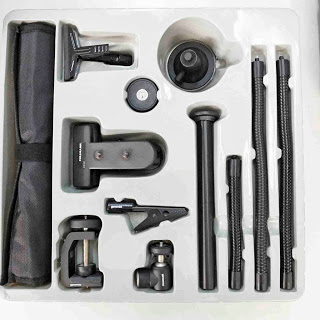 26 Sep

Hands Across The Table – Cullmann Studio Set

I wish I had an underwater studio. Then I could employ an octopus as an assistant and whenever I was trying to photograph a complex setup on the tabletop there would be extra arms available to hold things.
As it is, what might look like a simple bunch of toy cars and their associated scenery might be propped up with toothpicks, Blu-tac, double-sided sticky tape, folded matchbooks, piles of rice…the variations are endless as I try to show he object but hide the support. Photoshop is helpful to erase shadows but the more you can do at the time the less fiddling you do later.
Enter the Cullmann Flexx Studio set. A whole kit wrapped in a nylon carry bag that attaches to table edges, or smooth flat surfaces, or cranes over from a light sand. there are clamps, grips, and a ball head with a cold shoe for a speed light. There are extension poles and goosenecks. It should allow me to get a steady shot while holding a lot of the heavier little components at awkward angles.
Guess what I am going to push for as a Christmas present…
PS: You can get smaller sets as well, but this is the big daddy and I deserve the best…