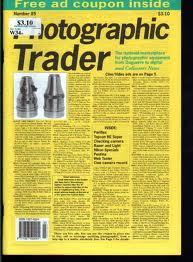 13 Nov

Vale Photographic Trader

When I write this blog, there is a pallet on the side of the screen that contains brand names like Nikon or Canon and other terms that apply to photography – I click whatever is appropriate for the post and it trumpets it out to the web searcher. Easy. This posting is tougher because ALL of the things on the pallet would have gone out.

You see, the subject of the post – The Photographic Trader – was a publication that dealt with absolutely everything in the imaging line. All the brands and all the processes historic or modern. It was a trade-and-sell sheet as well as an advertising platform as well as a focused magazine for collecting enthusiasts. Lots of good writers told the stories of cameras and camera makers of the past and posited new fixes and processes for the digital future. Not a few of the writers could cross over from one area of the discipline to another without breaking step.

I wrote a column in it and was delighted to receive payment each two months. Whether others were delighted to read it is another thing but I did ask the editor to print my page on absorbent paper so at least the budgie cage was taken care of for a few days. It was great fun to tell jokes to strangers all over Australia on a subject that I love – now that the magazine has ceased publication I will have to fall back on this blog to do it. That and stapling photocopy pages to strangers in the railway station.

I guess it was economics – perhaps the distribution system contributed to it, and perhaps the fact that all the reader advertisements were for free. I wonder what some of the regulars with big listings are going to do now – not that they seemed to change their stalls much from one issue to the next. Perhaps they will be taking bigger tables at the camera society swap meets.

I do hope that the people who run the meets, or are conducting darkroom classes, or have the arcane little sales and repair shops, ( Umm…gulp..is that us? ) can find another way to let the public know what is going on. There is a vast connected web of photographic knowledge out there that won't be addressed by chain store kids. And there is a real comfort about getting a paper magazine in hand that you can peruse wherever and keep for future reference. I've got all my Traders and I'm keeping them.

Thanks Cole – we loved your work.