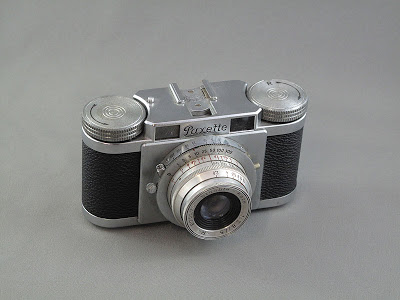 05 Nov

Retro Masterpeices, The Modern Equivalents and a Quick and Easy Product Studio.

This week a couple of lovely old cameras caught my eye. These wonderfully retro cameras are for sale as collectors items. The first one is a Braun Paxette. As far as I can tell this camera was manufactured in the 1960's. It does not seem to be working and would be suited towards display as a collectors item or as a thrown projectile in defense of a home invasion. These old cameras really are built solid.

Next up is a Agfa Solinette with it's own cute leather case. Again not currently working and suited for collecting or as a fashion accessory. Although perhaps not everyone appreciates the aesthetics of this camera as I do. A mid fifties marvel with it's compact form and folding lens. The charm of a nice leather case can do alot for a small camera that is designed to be carried with you everywhere. If your after the convenience of a modern digital with a stylish leather case there are options. Check out the

Leica D-lux 4

with it's leather case or also the

Canon G11

also has a great leather case too. Of course we are stocking such awesome cameras as these two (pictured below the Agfa).

Below you will notice pictures of the Leica D-lux 4 and the Canon G11. Call us on 08 9328 4405 for current pricing.
Lastly for today I want to share with you a great product that arrived in our store a few weeks ago. It's a quick and easy mini studio for product photography. This Optex mini portable studio folds up into a briefcase sized cary bag. It could not be simpler to use. With fluorescent constant lighting there is no hassles setting up triggers for the flashes or worrying about heat from halogen lamps. Thanks to the fluorescent lights it stays cool after prolonged usage, uses minimal power and provides a nice white light. Perfect for anyone wanting hassle free product shots. It even works great with pocket sized cameras. I shot these with my G10 on auto mode with the flash turned off. It comes with a neutral grey and a blue background. Below is a picture of the setup I used. I didn't even bother with a tripod and just shot it all hand held. Like I said earlier this cheap setup makes it very easy for me. With a bit of care I bet you could get even better results. Come in and take a look.