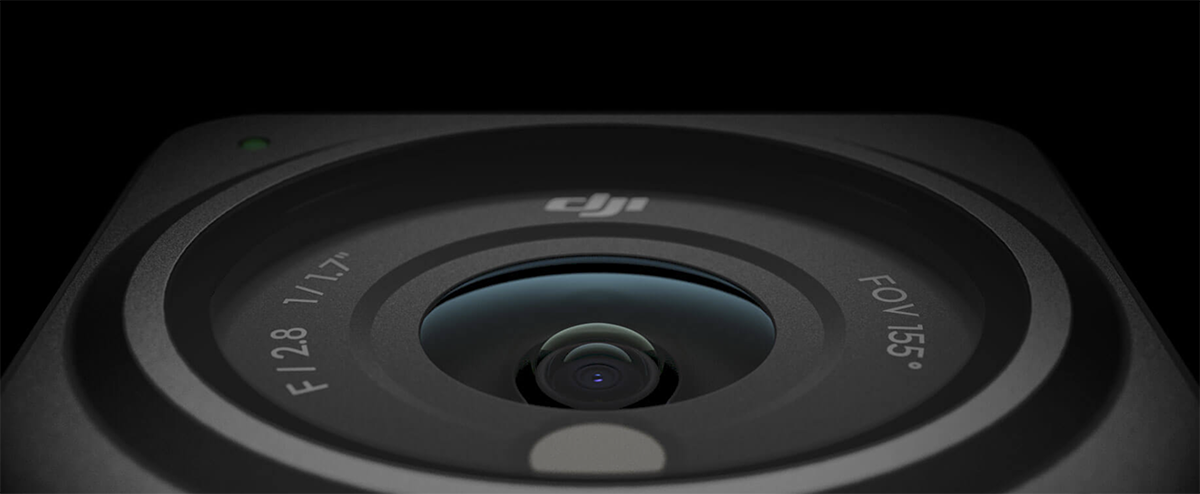 28 Jan

Action Packed Videography With The DJI Action 2

As we move into summer, it's time to consider a new action video camera – enter the DJI Action 2. The DJI Action 2 is the latest entry by the geniuses at DJI. They are makers of some of the best consumer drones, gimbals and, of course, action cameras. Summer is a time for getting outdoors and enjoying time exploring your world with friends and families. What better way to make everlasting memories than with an Action 2 camera. Not only is it compact and highly portable, but it's also next-generation technology delivering impeccable 4K video in and out of the water.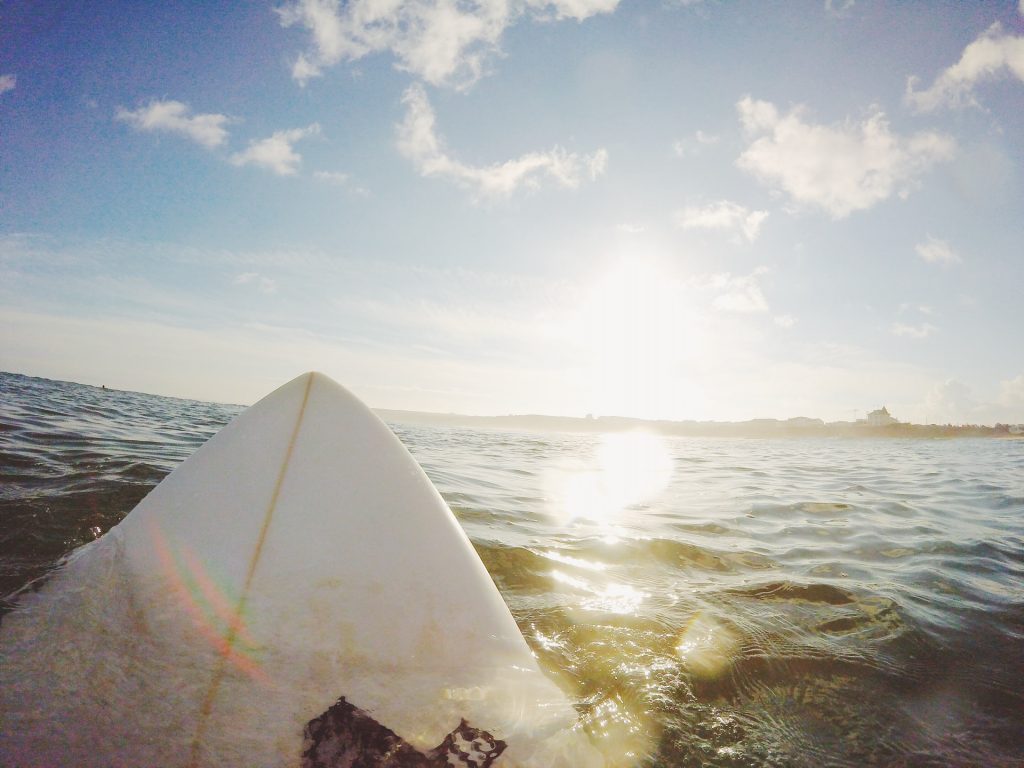 The folks at DJI claim that the DJI Action 2 is their most versatile and powerful action camera to date. The cube-shaped components utilize impressive magnetic attachment methods to pair either a power pack or a dual-screen system. What's more, the magnetic system allows for fast applications of a wide range of DJI accessories to keep your kit safe and to enable hands-free video capture. The DJI Action 2 is available in two unique combos. The first is the DJI Action 2 Dual-Screen Combo, and the second is the power-packed DJI Action 2 Power Combo. Let's look at each of these products and the range of accessories to optimize your summertime videography. 
DJI Action 2 Dual-Screen Combo
The DJI Action 2 Dual-Screen Combo is the ideal all-in-one solution for content creators that love action, adventure and a completely portable kit. The beauty of the Dual-Screen Combo is that it features two Action 2 modular cubes that connect seamlessly via a magnetic connection. It's that same magnetic locking design that allows you to interchange any compatible accessories without the fear of them coming apart.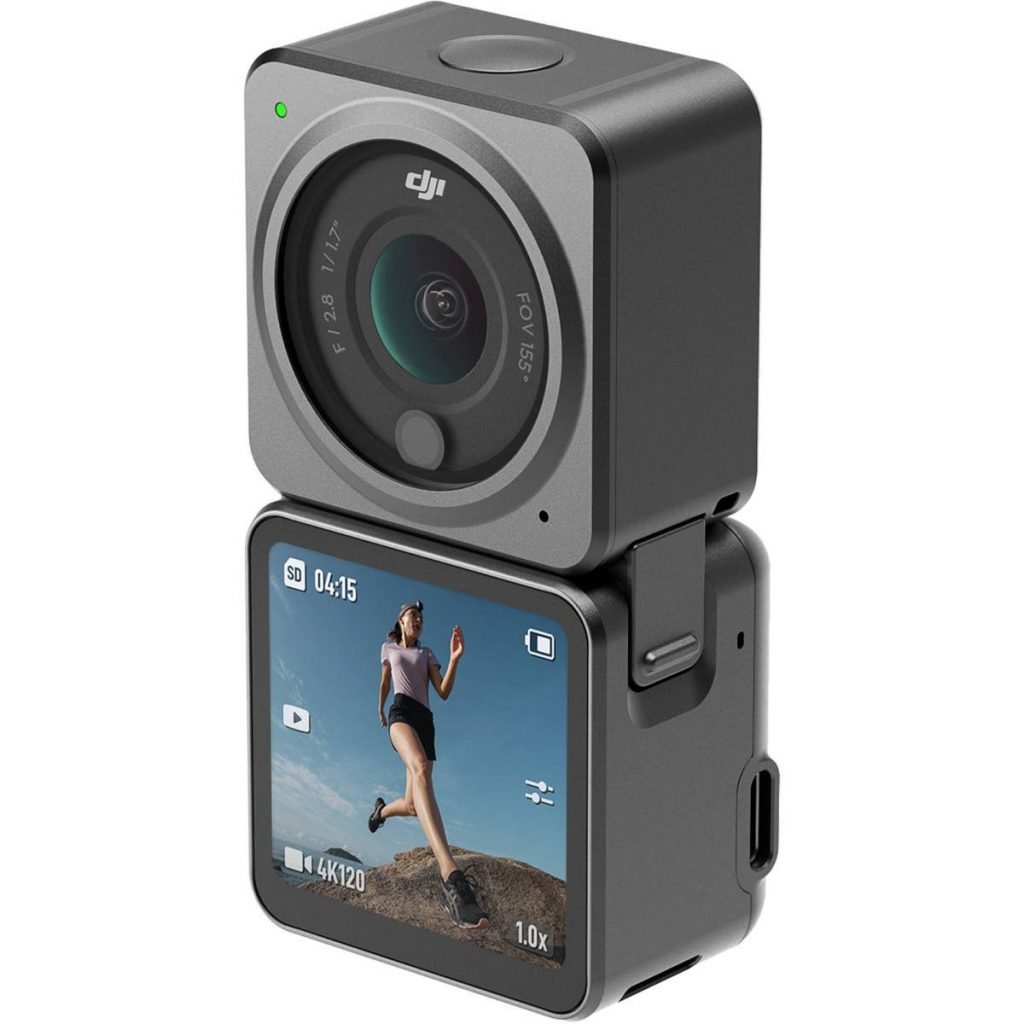 The Action 2 features a lightweight aluminium alloy body that's incredibly durable while ensuring the action camera takes up no room or weight in your travel kit. It's also worth noting that the DJI Action 2 Dual-Screen Combo is not just weather-resistant; it's completely waterproof to 10m! The unit is also dust-proof, drop-proof and pretty much idiot-proof!
DJI Action 2 Dual-Screen Combo Specifications
Action 2 Magnetic 4K Camera

1.76″ Front-Facing Touchscreen OLED

Up to DCI 4K60, UHD 4K120, 1080p240

4-Mic Matrix Stereo Audio with Zoom

Extends Runtime to 160 Minutes

Magnetic Adapter Mount & Lanyard

Adhesive Ball Joint Adapter

1/1.7″ CMOS Sensor, Wide 155° FOV

Camera is Waterproof to 33′

Image Stabilization & Horizon Leveling 
Pocketable Power
Saying that the DJI Action 2 Dual-Screen Combo is a pocketable content creation device is an understatement. The Action 2 system delivers awe-inspiring performance through the use of masterfully engineered elements. Being a DJI product, the Action 2 is overflowing with next-generation features and ingenuity to capture every moment of the action.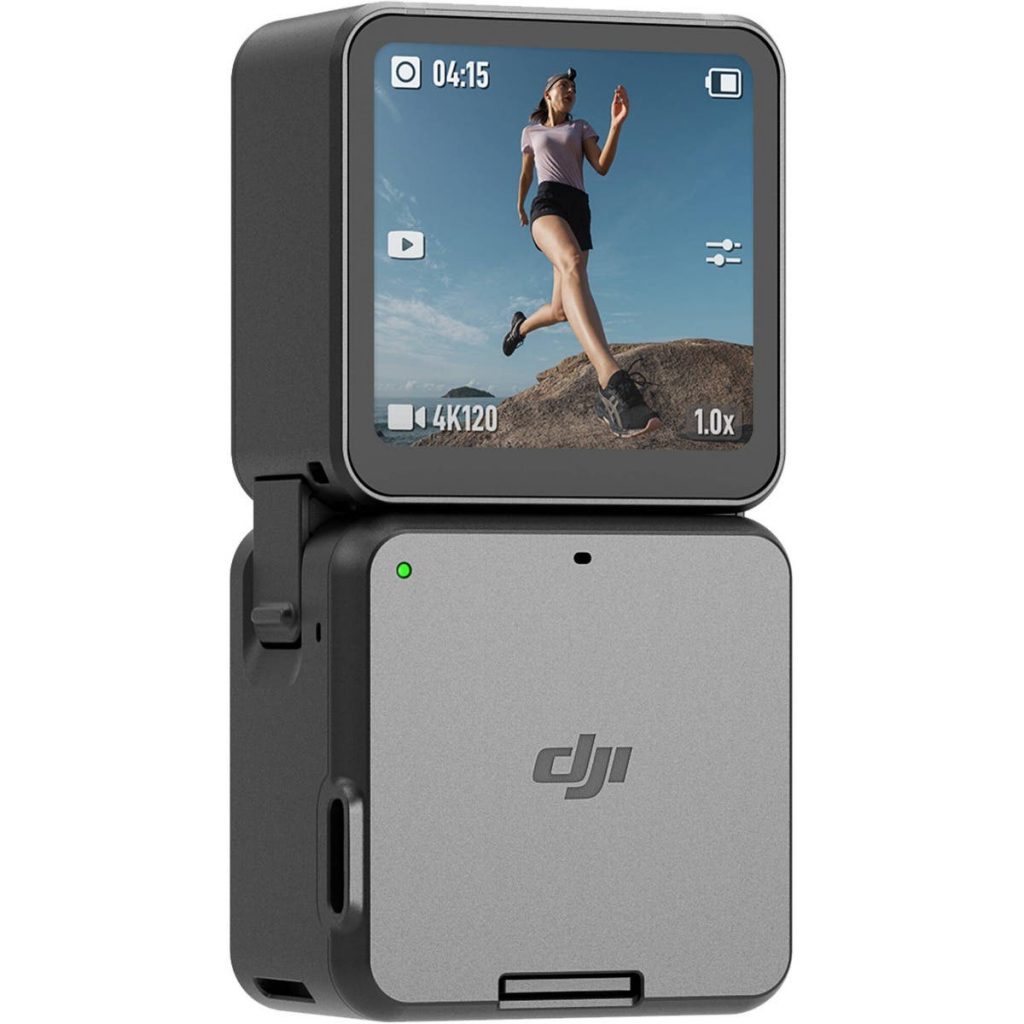 Kicking off with the Camera Unit, it features a 12.7mm wide-angle lens ensuring all you see, and experience is in-frame thanks to a 155-degree field of view. What's more, the fast F/2.8 aperture and precision engineering ensure edge-to-edge image sharpness free of unwanted distortion. The lens is paired with the DJI 1/1.7″ CMOS Sensor to capture stunning 12-megapixel high-resolution stills and captivating 4K video. The camera unit features its touch 1.760-inches 350 PPI screen for complete control of the camera unit. 
The DJI Action 2 Dual-Screen Combo video capabilities are off the charts, including DCI 4K video at 60p, UHD 4K video at 120p and ultra-slow motion HD 1080 at 240p. The detail and resolution will astound you and anyone you share your content with. Achieve all of this with ultra-stable video footage thanks to the DJI's built-in HorizonSteady stabilization algorithm. It digitally detects and then instantly corrects camera shake and the effects of rotation in real-time. Every instant will be rich and smooth, regardless of recording a serene paddle-boarding session or a serious white-water rafting experience. 
See and Hear Everything
One of the critical elements of the Action 2 Dual-Screen Combo is the Front Touchscreen Module that connects to the core Camera Unit with the snap of the magnetic mount. Vloggers will love the highly versatile and visually clear addition of a front-facing OLED touchscreen. The lightweight Front Touchscreen Module is not waterproof on its own but becomes up to 60m waterproof with the DJI waterproof case. In addition to improved visuals, the Module also provides a 4-mic Matrix Stereo system to capture rich and crisp stereo audio. It delivers directional audio and the ability to optimize audio zoom for a pure sound experience. With the Front Touchscreen Module attached to the Camera Unit, the combined battery life boosts to 160 minutes with a 90m charge time.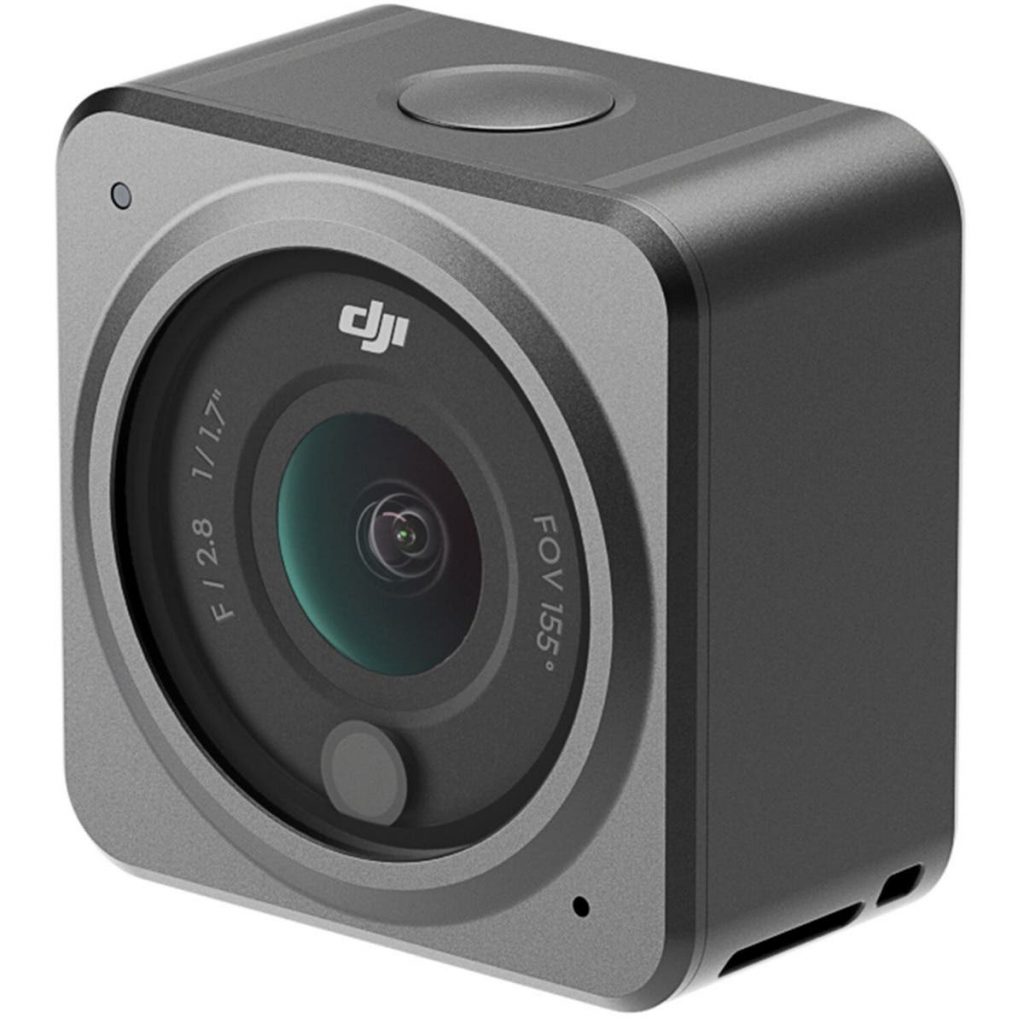 Creative Applications Built-In
As with any DJI product, the Action 2 is future-ready with a wide range of creative features to satisfy even the most bespoke content creation task. The Action 2 boasts an excellent Timelapse mode to capture seamless and hyper-smooth video capture over prolonged periods. It's an ideal solution for videographers looking to capture the action in landscapes and cityscapes at sunset or sunrise. Add to this the 8x Slow Motion and Digital Zoom, and you have ultimate creativity at your fingertips.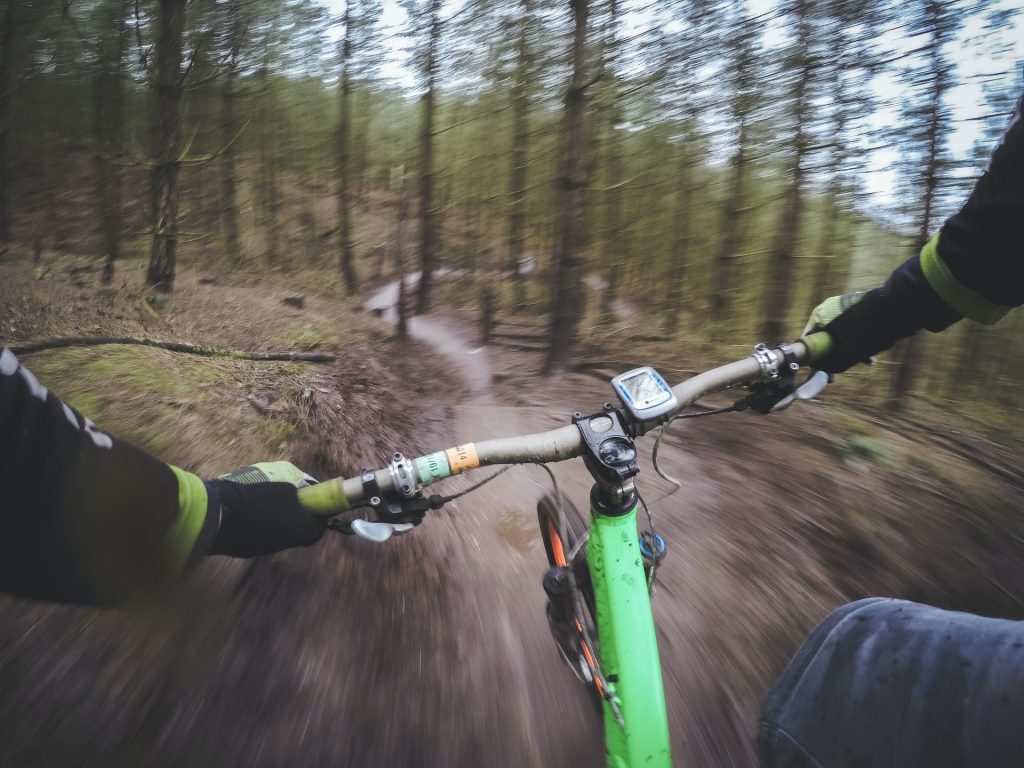 Another standout feature of the Action 2 action cameras is the seamless pairing with the DJI Mimo smart device app. The Action 2 features both Wi-Fi and Bluetooth connectivity allowing you to sync and share from anywhere at any time. Photo and video transfers are flawless and quick. The feature packed and intuitive DJI Mimo app includes powerful manual editing tools to prepare content for instant sharing. What's more, it consists of an AI Editor mode where the app automatically selects and stitches together key clips from your footage and applies both transitions and music. 
DJI Action 2 Power Combo
DJI has a history of releasing more than just a single product at a time. That's precisely what they've done with the Action 2 and the Power Combo option. The DJI Action 2 Power Combo features the same Camera Unit with the fast F/2.8 wide-angle lens, 1/1.7″ CMOS Sensor, Image Stabilization, and Horizon Levelling system. However, it boosts the longevity of your creative pursuits. It increases the available battery life of the Action 2 up to 180 minutes when recording video. That's three hours of relentless adventure – you'll need a break to recharge before the Action 2 does! In addition, the DJI Action 2 Power Combo unit adds a MicroSD slot as a storage alternative. What's more, the Power Unit is hot-swappable. It allows you to swap the power supply without stopping your recording or the action.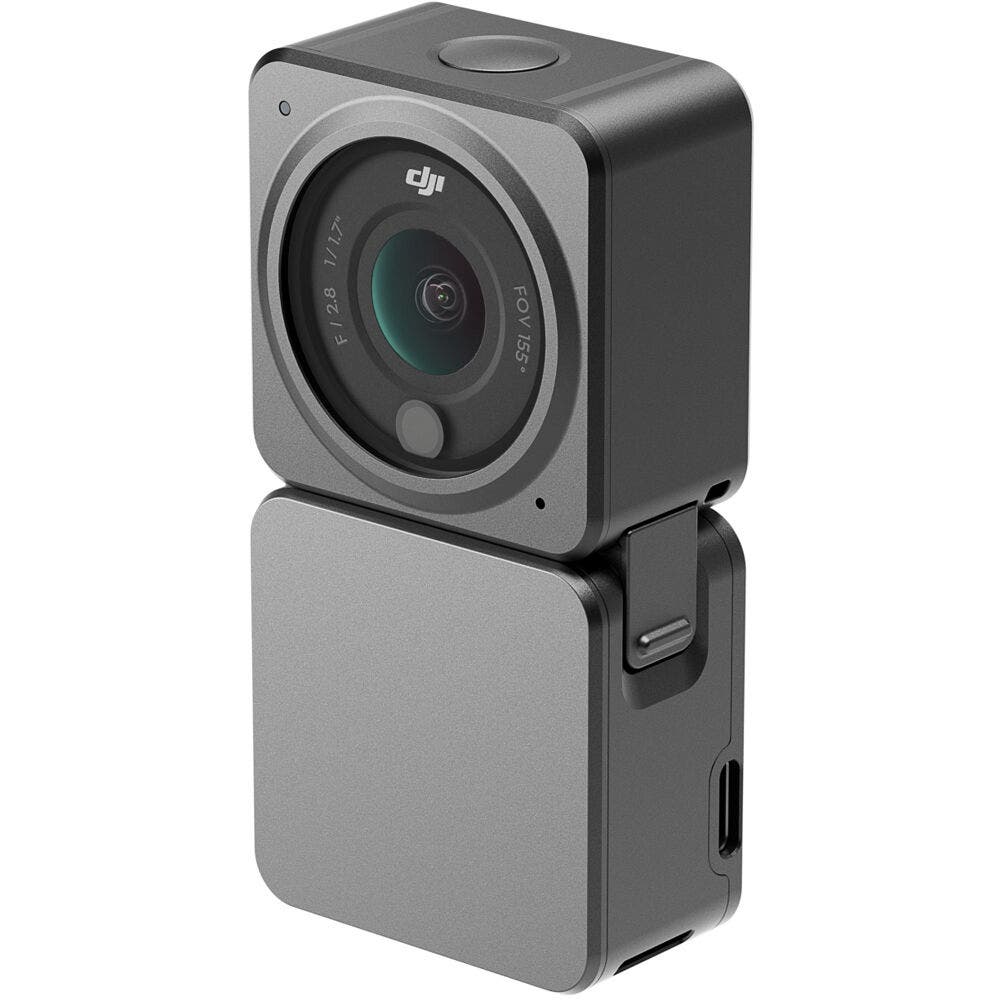 DJI Action 2 Power Combo Specifications
Action 2 Magnetic 4K Camera

Power Module with microSD Card Slot

Up to DCI 4K60, UHD 4K120, 1080p240

Extends Runtime to 180 Minutes

Magnetic Adapter Mount & Lanyard

Waterproof to 33′ without a Housing
Accessories for Action Capture
The DJI Action 2 Dual-Screen Combo includes the Camera Unit and the Front Touchscreen Module to add vlogging ability and extended battery life. But wait, there's more! The Dual-Screen Combo consists of a Magnetic Ball-Joint Adapter Mount and Magnetic Adapter Mount for easy application to existing accessories. The Magnetic Ball-Joint Adapter Mount features a reusable adhesive base. The ball joint to place your Action 2 anywhere and capture stunning angles every time. The Magnetic Adapter Mount clicks securely to the Action 2 and works with all standard action camera accessories. A Magnetic Lanyard is also included in the kit to wear the Action 2 on your body for FPV action filming.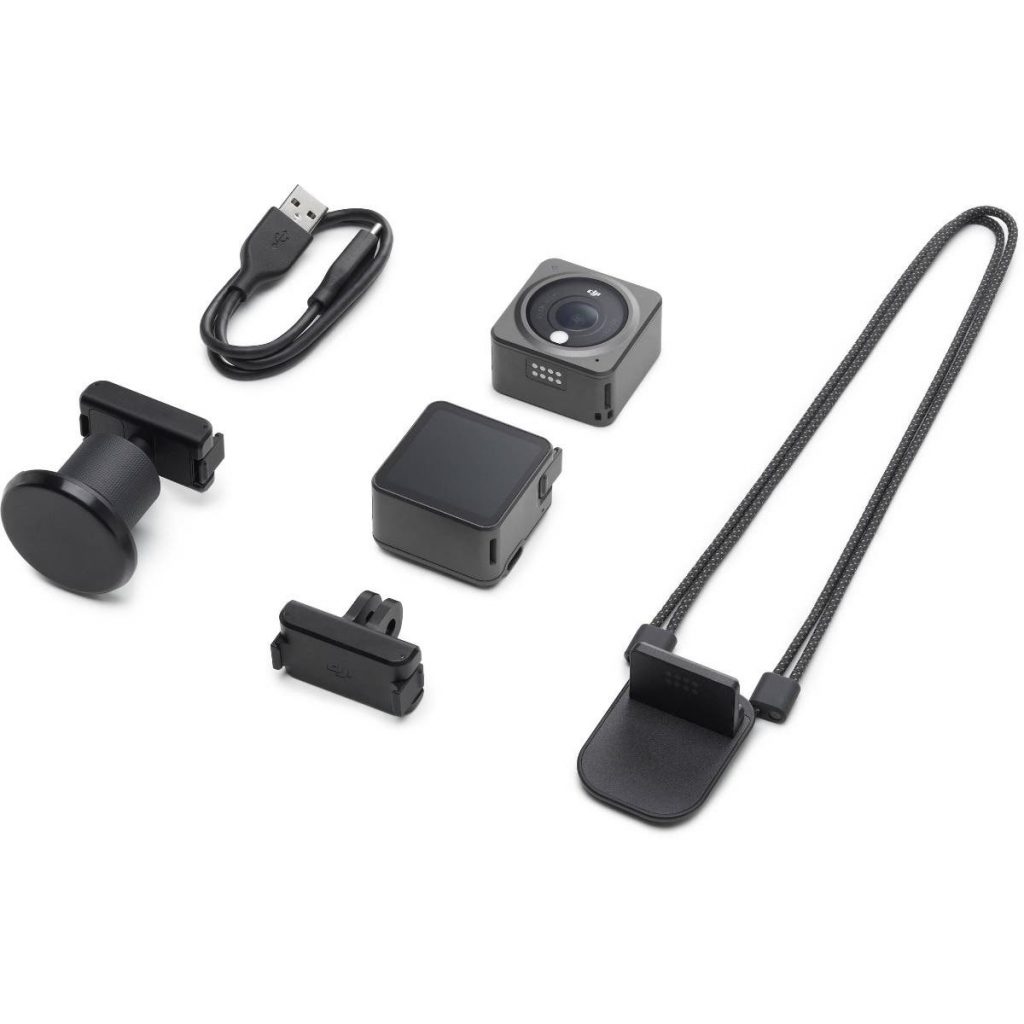 It's worth pointing out, the DJI Action 2 Power Combo also includes the Magnetic Adapter Mount and Magnetic Lanyard but not the Ball Joint Adapter Mount. In addition to the accessories included with either the Action 2 Power Combo or the Dual-screen Combo, there's a brilliant range of DJI accessories fit for any extreme or creative adventure.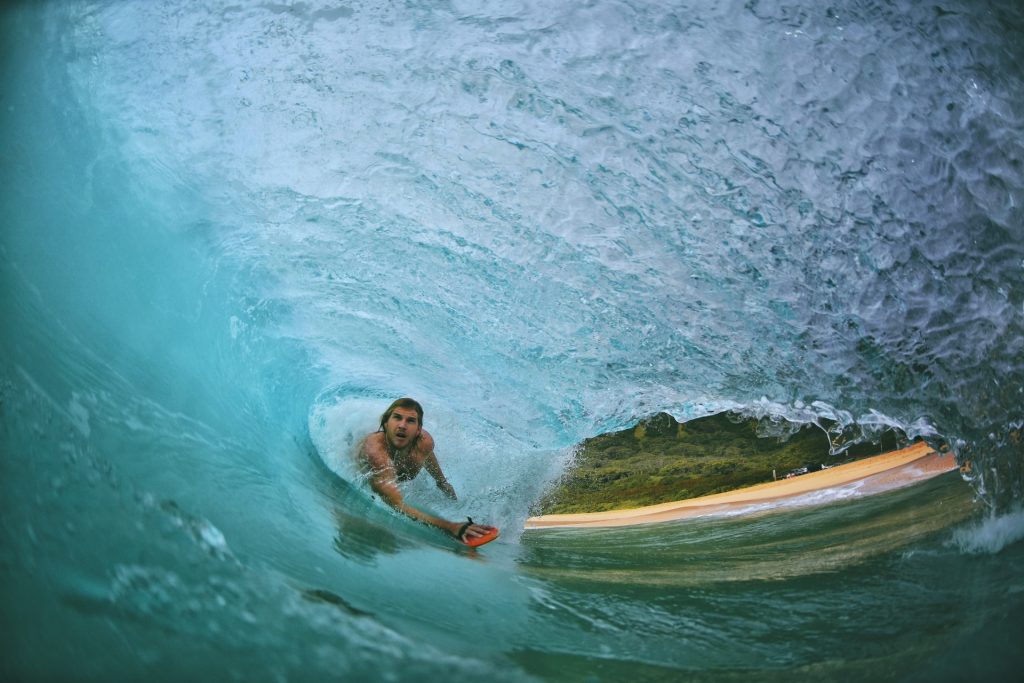 DJI has creative and expressive content creation at the forefront of their thinking. It is all thanks to the creative essentials such as the Remote Control Extension Rod and DJI Macro Lens. Another unique product is the DJI Mic. It delivers crisp and sharp audio quality and dual-channel recording at up to 200m. 
Get Your DJI Action 2 Combo Today
No matter your creative pursuit or how much of an action-adventure nut you are, the Action 2 video cameras are an ideal solution. The DJI Action 2 Dual-Screen Combo is perfect for content creators that demand vlogging capabilities with enhanced audio capture. The DJI Action 2 Power Combo fits anyone desiring long recording times while lost in the great outdoors miles from a power supply. Camera Electronic has a complete range of DJI action camera products and a wide range of accessories – so head in-store or online today!