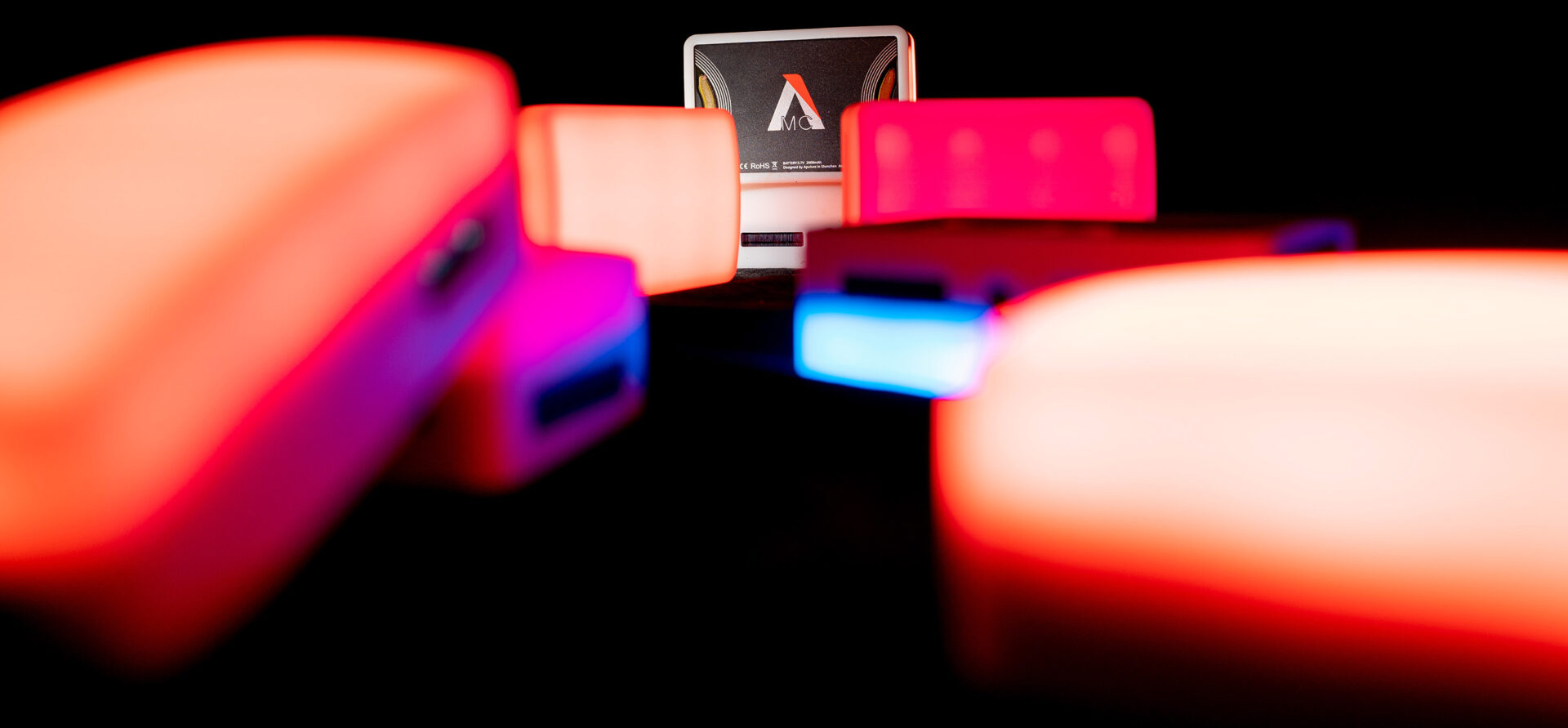 08 Dec

The Best Portable LED Lights For Your Creative Projects

Portable LED lights have transformed the way lighting is used in photography. They're small, lightweight, and portable enough to be carried around anywhere you'd like. You can also mount these lights anywhere you wish and immediately illuminate the frame. Along with these benefits, the new-age LED lights are cost-effective too.

Portable LED lights are powerful and offer a range of features, including Bluetooth connectivity for superior control and customisation. Whether you're into photography or videography, the quality of your content will be instantly enhanced with an LED light. Therefore, it is undoubtedly the right time to add LED lights to your kit.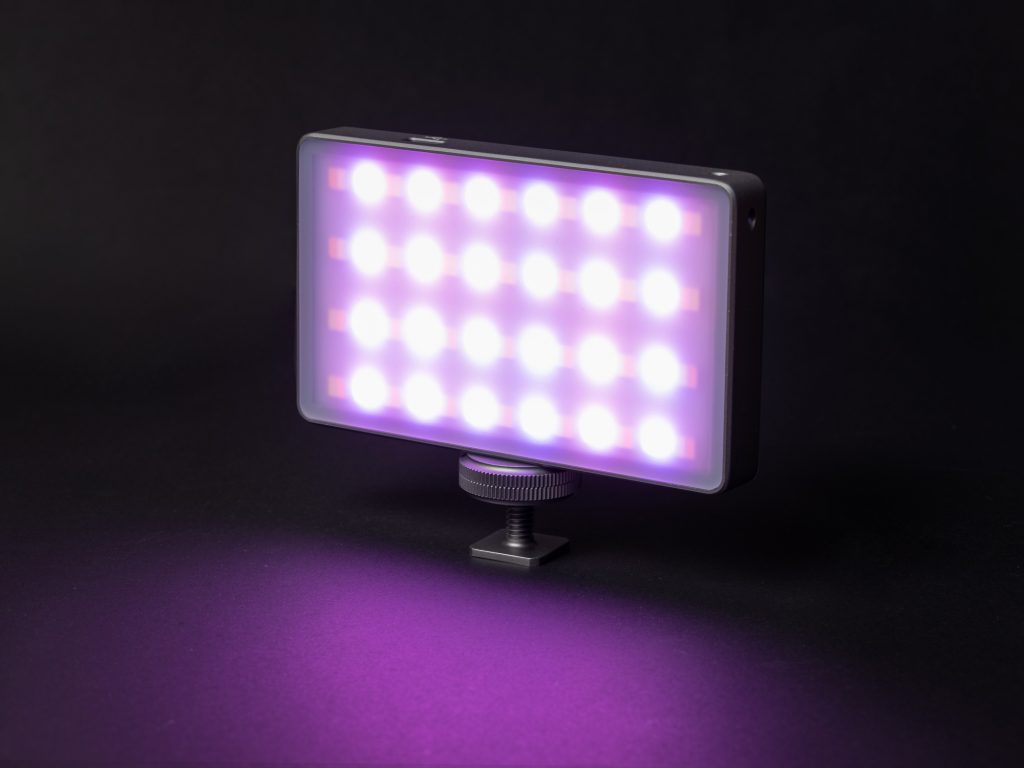 Depending on your requirements, there are a wide variety of LED lights out there. The smaller LED lights are more beneficial for smaller studios, and you wouldn't have to compromise and settle for the bigger ones. All you need is a single or group of LED lights, and you're good to go.
Investing in suitable quality LEDs is essential. After all, it is the lighting that can make or break your photos. We've chosen some of the best-LED models out there. Keep reading and pick one that suits you the best.
Aputure MC RGBWW LED Light
The Aputure MC RGBWW LED Light is part of Aputure's esteemed M-series of lights. It features RGB LEDs as well as both tungsten-and-daylight balanced LEDs. The Aputure MC RGBWW LED Light is a lightweight light fixture and can easily fit in the palm of your hand. Despite this compact form, it can flood your studio with light. You can mount this LED light via the built-in ¼ inch-20 threaded mounting hole on the base. You also have the option of attaching it firmly to metal objects via its built-in magnets.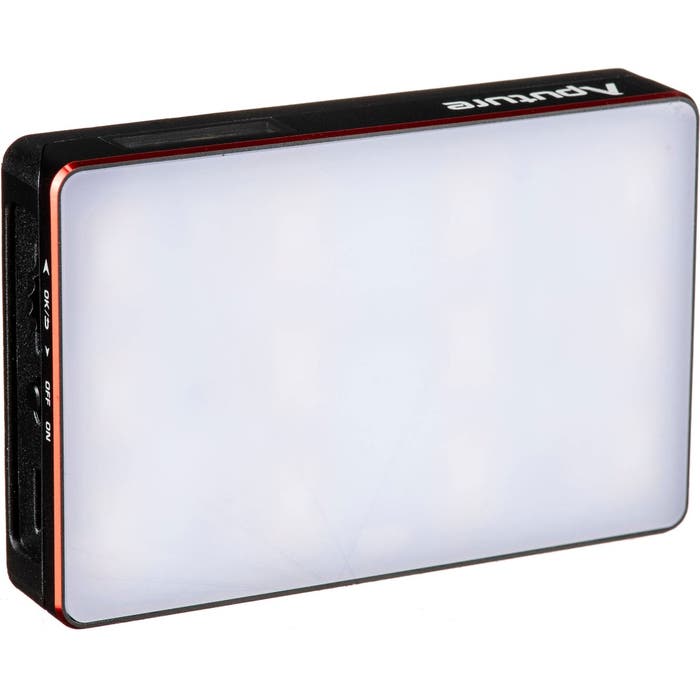 The Aputure MC RGBWW LED Light comes with an integrated OLED display screen and a control wheel. Adjusting the illumination becomes more manageable with these features. In addition, you have the Aputure Sidus Link app for remote control and to modify light settings from your mobile device. The light fixture supports the Sidus Mesh technology that allows you to control multiple lights and groups simultaneously.
Thanks to the control system, you can dim light intensity from 100 to 0% brightness. It also allows you to have 360-degrees of hue control and offers 100 levels of colour saturation adjustment. In addition, the Aputure MC comes with an integrated battery that keeps it going for two hours at maximum brightness.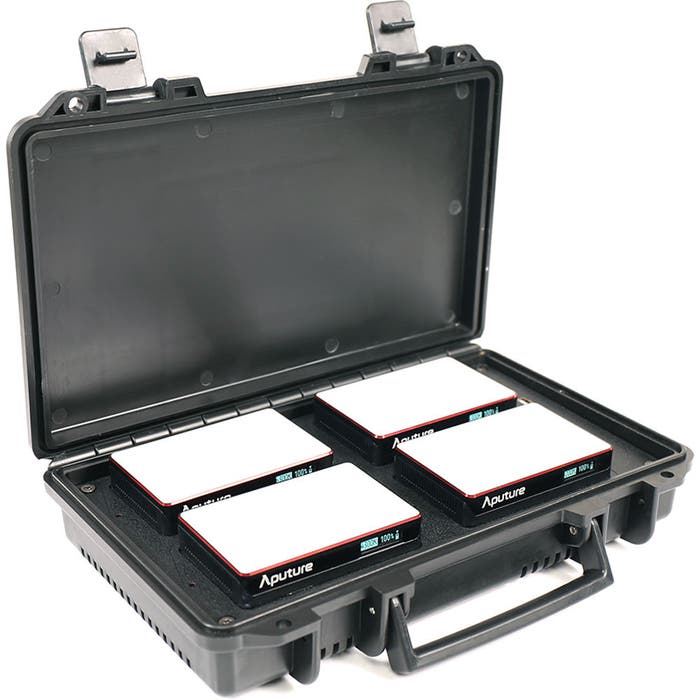 If you're looking to work with multiple Aputure MC LED lights, you can choose the Aputure MC 4-Light Travel Kit with Charging Case instead. It comes with four light fixtures, a charging case, and accessories. The kit is an intelligent choice for visual creatives who are always on the move and require more than one light.
Phottix M200RGB Pocket LED Light
Phottix is another reliable brand that has introduced a range of pocket-friendly, portable LED lights. The Phottix M200RGB Pocket LED Light is a compact yet powerful light source well suited for both stills and videos. The light uses flicker-free, long life, low heat LEDs, which ensure you have a consistent, even illumination throughout the frame.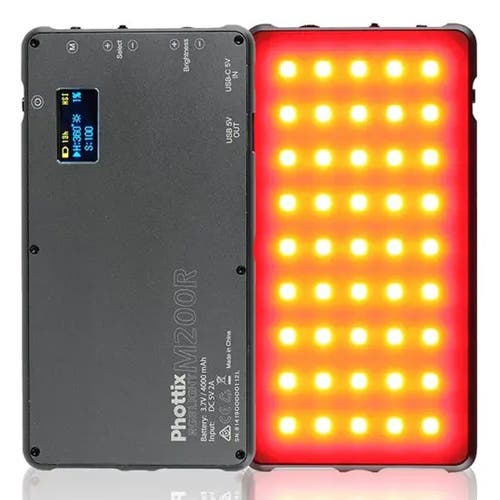 The Phottix M200RGB Pocket LED Light also doubles up as a power bank to charge devices. You can use a USB cable and charge any device you wish to conveniently with the help of this light fixture's built-in 4000mAh battery. Apart from photography, this LED light has multiple applications – they can be used on a range of content creation projects.
The ultra-slim body of the Phottix M200RGB Pocket LED Light is an advantage as you can easily carry it anywhere you want to. In addition, it comes with a range of adjustable features that allow you to control different settings such as brightness, colour temperature, hue and saturation levels.
The Phottix LED light comes with a cold shoe adapter allowing you to mount the light on a compatible Phottix tripod or a Phottix multi-function flash shoe umbrella holder.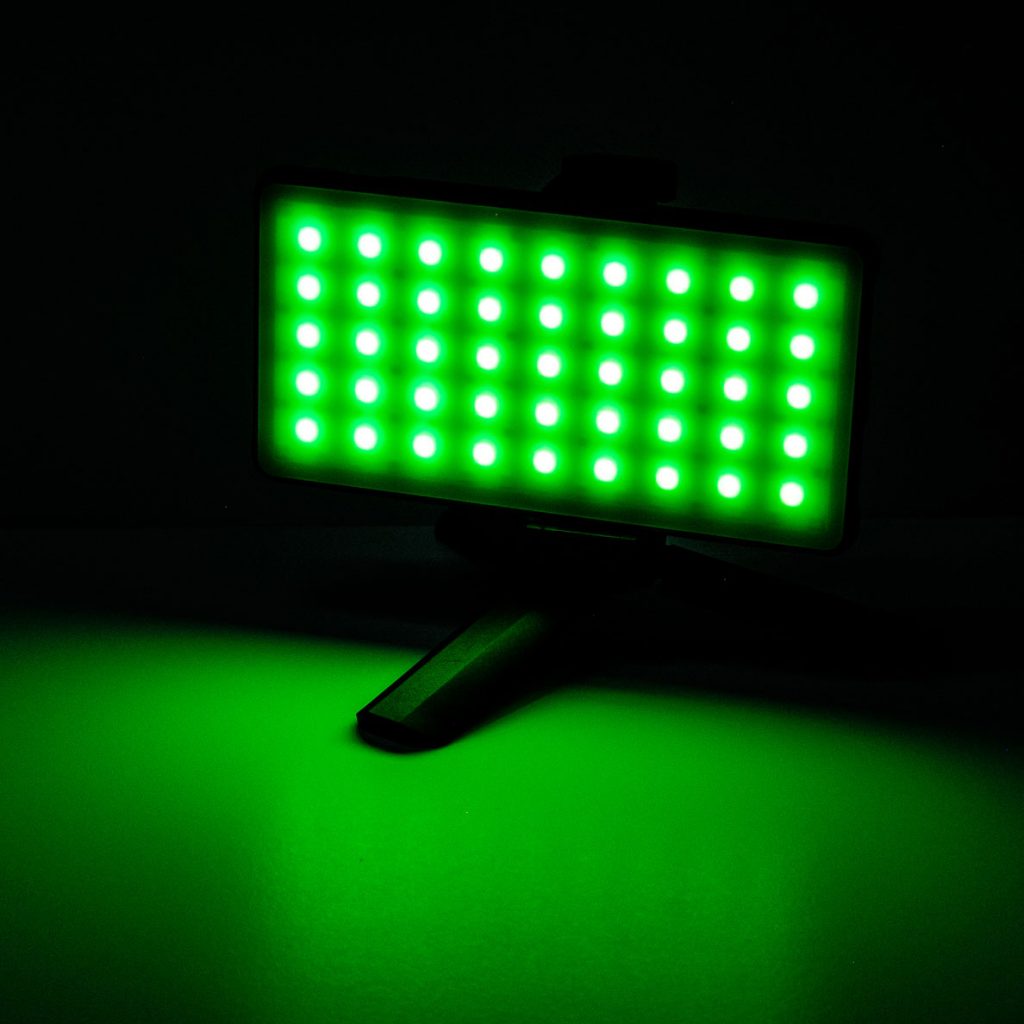 Lume Cube Panel GO
The Lume Cube Panel GO is a new compact LED panel with an array of impressive features. It is suitable for videography, photography as well as vlogging. The LED light features an intelligent rear LCD which displays the brightness level, colour temperature, runtime and battery level.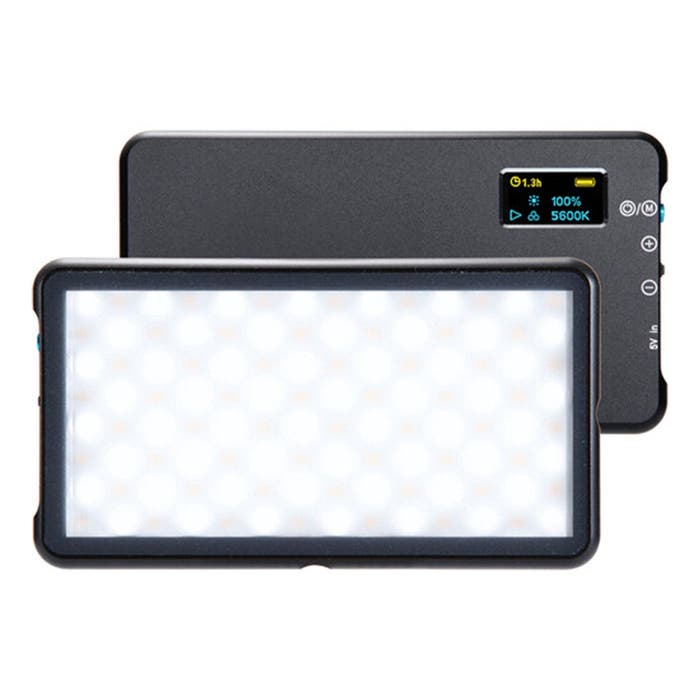 At 100% brightness, you can expect the Lume Cube Panel GO running efficiently for 1.3 hours. At 50% brightness, it works without fail for 2.3 hours. It's also possible to charge the Panel GO via its USB Type-C port and use it while charging.
The lightweight aluminium build of the Lume Cube Panel GO is easy to use for indoor and outdoor photoshoots. You can mount it on your camera or use its built-in thread to mount it on a tripod.
Phottix Nuada 60 LED Ring Light Kit
Are you looking to bring your creative photography ideas to reality? The Phottix Nuada 60 LED Ring Light Kit is just what you need. It has a simple, accessible and easily understandable layout, which makes it a beginner's favourite.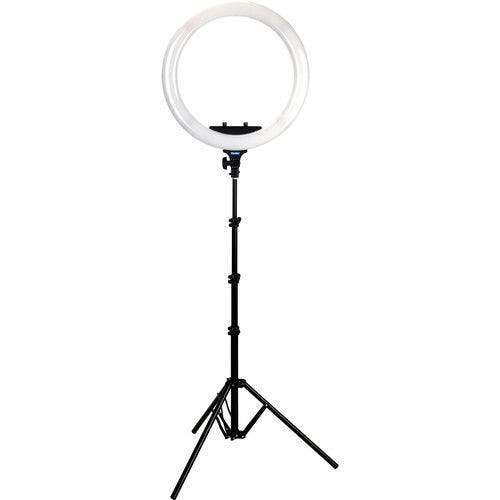 You can find the large colour temperature and brightness knobs easily accessed from the rear or front. Adjusting these key features becomes very easy with this strategic placement of buttons. 
The Phottix Nuada 60 LED Ring Light Kit also operates silently due to fanless convection cooling. The quiet feature of the ring light makes it ideal for video and web-based streaming applications. You can comfortably use the light for weblogs, makeup tutorials or any other content you wish to create.
The Phottix Nuada 60 LED Ring Light Kit has an adjustable camera bracket, smartphone clip, multi-voltage AC adapter, and a compact light stand. You also have a carrying case, which makes it convenient for you to carry around the ring light and all the accessories that come along with it.
Summing Up
If you're looking to pick up any of these portable and powerful LED lights, head straight to Camera Electronic today. Why wait when you can instantly enhance your craft with these fantastic LED lights from top brands?