27 Oct

It's Not Just For Fans

When we have invested time and money in photography gear we become quite protective of our choices. We defend them to others and to ourselves…lest we be proved wrong about something. We become fans. Note that " fan " is a contraction of " fanatic ".

It's actually healthier to have an open mind about these things than to have an open mouth…better information comes in. In this spirit I attended a Camera Electronic camera equipment show last night at the Stirling Street shop. A new Sony camera demonstrator was revealed with a report from a chap who had a chance to use it for a month – in real pro situations.

In this case my interest was how the new Sony A7 IV performs with video work. Heretofore I would not have taken such an interest but recently I shot my first dance show video on my Fujifilm camera and the bug has bit. I have been YouTubing how to operate mine efficiently and have been delighted to discover that most of the components of a workable video rig are in my studio already. Even my computer system supports a simple editing program. My studio has a functioning lighting system ( Well, I can move around without stumbling in the dark…) and the only real lack is knowledge.

I'll bet most of the other audience members were Sony fans already, and would be well up on the system. However, a great deal of the talk was accessible to someone from outside the system and just starting to pick up the tech. It's surprising how segments of lectures can be used by photographers even if they are not shooting with the featured equipment or to similar jobs. All the same, the technicalities of the art can sometimes overwhelm the viewers and it takes a good presentation to keep them in check.

That does matter. Some decades ago I attended a presentation in Mount Hawthorn put on by the C.R. Kennedy company that showcased the then-analog Hasselblad system. It was a multi-media slide show with an industry and brand expert showing Hasselblad images. It was so good that it made me dissatisfied with any other brand and spurred me on to eventually buy a Hasselblad 500 C/M from Ron Frank. The presentation was spot-on and I was never unhappy with the camera or the Hasselblad system in all the time I shot with it.

Now to the Sony: It's the A7 IV and the overall impression I got was of the harmony of the camera in the two roles; still and video. They really do realise that there is a dual demand in the market that the pro shooter has to meet. This camera is the 3-year advancement from the Sony A7 III and in all the vital areas there has been advancement. it is now 33 megapixels on the full-frame sensor.It shoots 10 frames per second and has an 800+ buffer. If you cannot get your shot in over 800 frames it is time to start sketching with a pencil…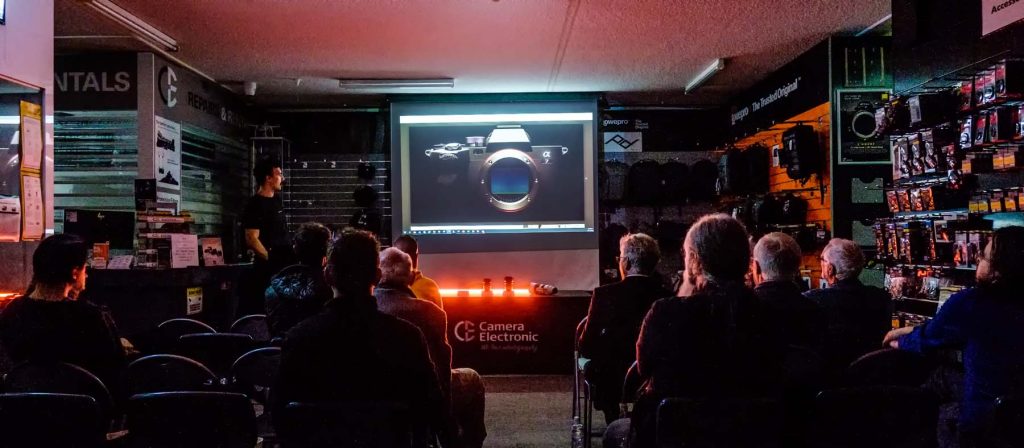 The IBIS will go 5.5 EV of control – the camera will deliver 4K downsampled from 7K at 30p. Two card slots, Bluetooth always on, and a dynamically inproved AF system. it apparently can automatically tack and hold people's eyes, dogs and cats eyes, and even bird's eyes. A boon to the photographer tasked with shooting packets of frozen peas, boom boom…Jut poke the touchscreen to tell the camera what you ant in focus and it will follow it through the video faithfully – even if there are small hiatuses in the subject's orientation.
Remember I mentioned the harmony? Well there is provision to program all the various measurements and controls for the thing in such a way to choose which are to be shared between moving and still pictures and which need to be changed – it all falls down to a three-way switch. If you are a natural light shooter at weddings, for instance, you can seamlessly go between still and video with that switch and realistically expect the came colours, contrasts, and focus between the two modes right in the middle of the action.
And one thing I noted from the specs. It's lighter than the comparable cameras from other makers. Leaves you leeway to add a good big zoom lens.