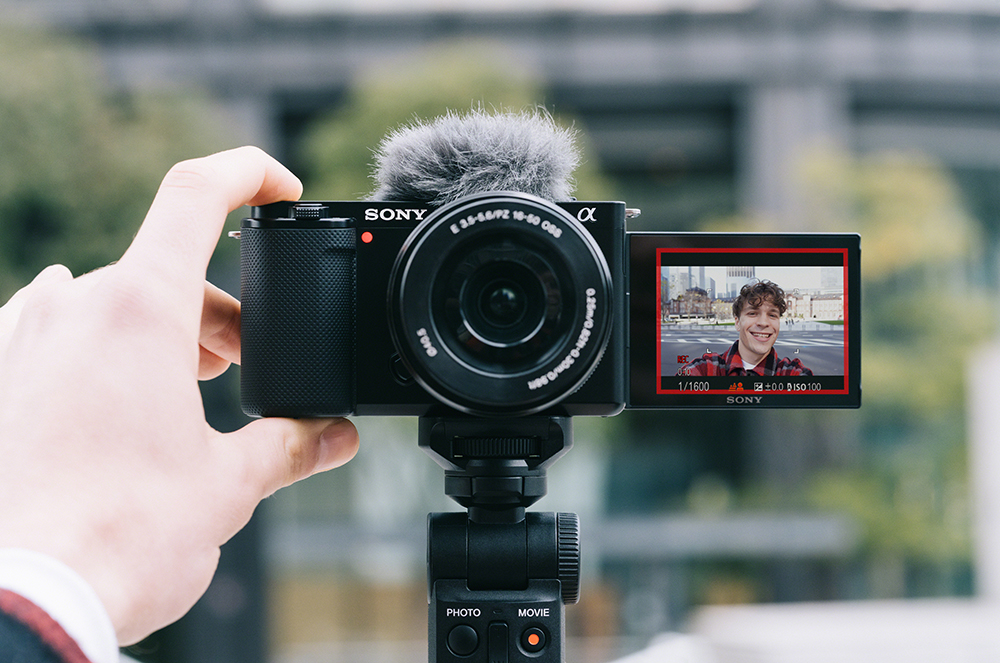 30 Aug

Sony ZV-E10 – Vlogging Champion

Visual creatives, influencers and vloggers develop and deliver content essential to a growing market. Sony has clearly recognised this first with the popular Sony ZV-1 and now with the second generation Sony ZV-E10. And when we say recognised, we really mean delivered! Sony has produced one of the most influential and feature-packed vlogging cameras out there. What's more, the new Sony ZV-E10 takes what was great about the ZV-1 and triples the performance and features.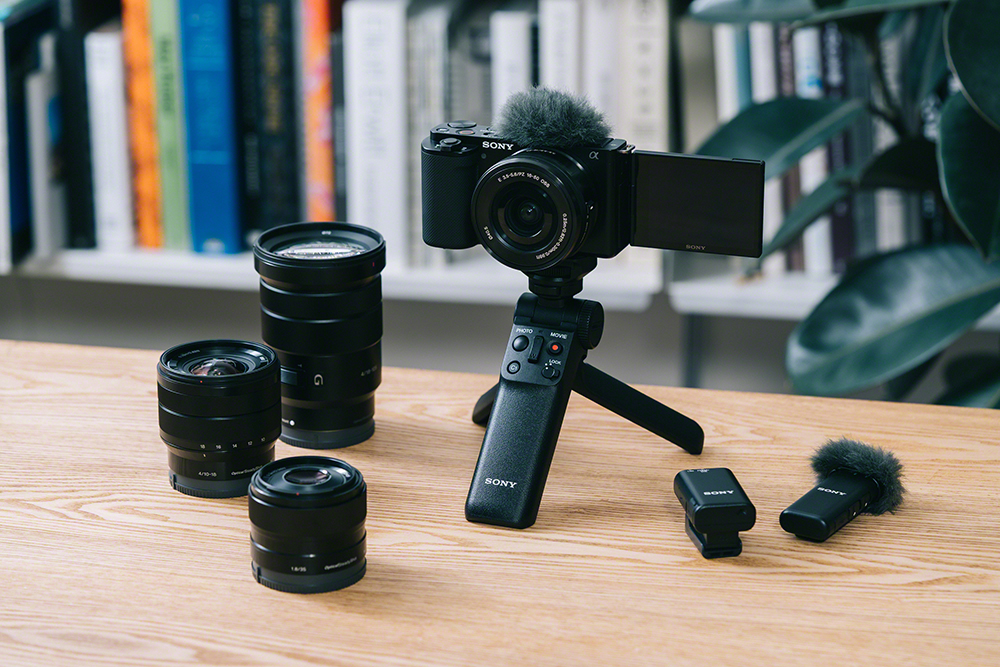 Sony ZV-E10 Standout Features
Vloggers and online content creators often don't have the time for complicated systems. They certainly cannot spend precious time reading a manual to understand how to perform simple functions on their camera. That's why the Sony ZV-E10 cuts through the noise to deliver a perfect solution for busy vloggers and streamers. Here's a quick look at some of the standout features:
24.2MP APS-C Exmor CMOS Sensor

UHD 4K30p and Full HD 120p Video

3.0″ Side Flip-Out Touchscreen LCD

425-Point Fast Hybrid AF

Up to 11-fps Shooting, ISO 100-32000

Real-Time Eye AF and Tracking
One of the most significant changes in the Sony ZV-E10 over its predecessor is the move to interchangeable lenses. The ZV-1 had a fixed 24-70mm zoom lens, and while this is great for most vlogs, it's a bit limiting. The ZV-E10 is an interchangeable lens camera meaning that you can apply any of the Sony E-Mount lenses. Sony has a staggering number of class-leading lenses ideal for vlogging and content creation. What's great is that the ZV-E10 is also available as a kit with a Sony 16-50mm f/3.5-5.6 lens included. 
How Good Will It Look?
One of the most critical questions a vlogger asks is how good is the image and video quality? And rightly so! With the online content world becoming competitive, stunning visuals is one of the best ways to stand out from the crowd. Fortunately, the Sony ZV-E10 smashes this category with superior image quality and 4K video output.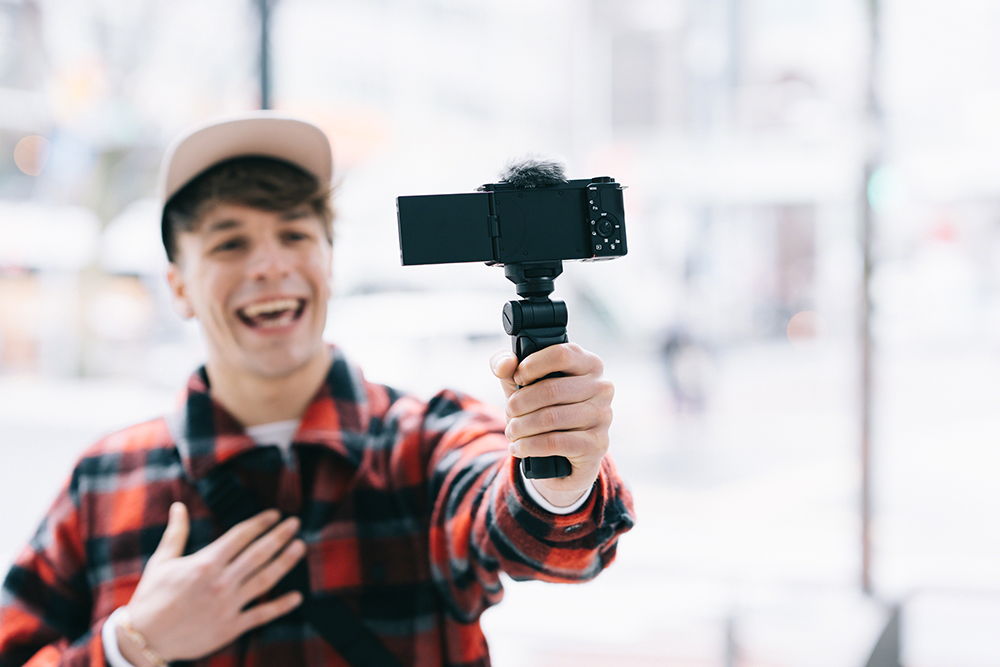 Superior Image Quality
The original Sony ZV-1 packed a high-quality 1-inch image sensor to capture detail in both stills and video. The Sony ZV-E10 cranks it up a notch or three with an APS-C format image sensor – that's three times larger than the original. The benefits of the 24.2-MP APS-C Exmor CMOS image sensor are countless, with image quality, low-light performance and high-quality video being at the top of the list. 
To support the bigger and more powerful sensor, the Sony ZV-E10 packs a BIONZ X processing engine. It drives lighting fast autofocus performance, a burst of 11 frames per second and 14-bit RAW file output for optional colour and tone. 
Stunning UHD 4K Video Recording
Let's face it; you're all here to learn about the Sony ZV-E10 video performance! We are thrilled to say that it surpasses our expectations in a second-generation vlogging camera. The Sony ZV-E10 cranks out vivid UHD 4K video at 30p. With 4K video shot through an APS-C sensor, you can crop footage without overly compromising resolution.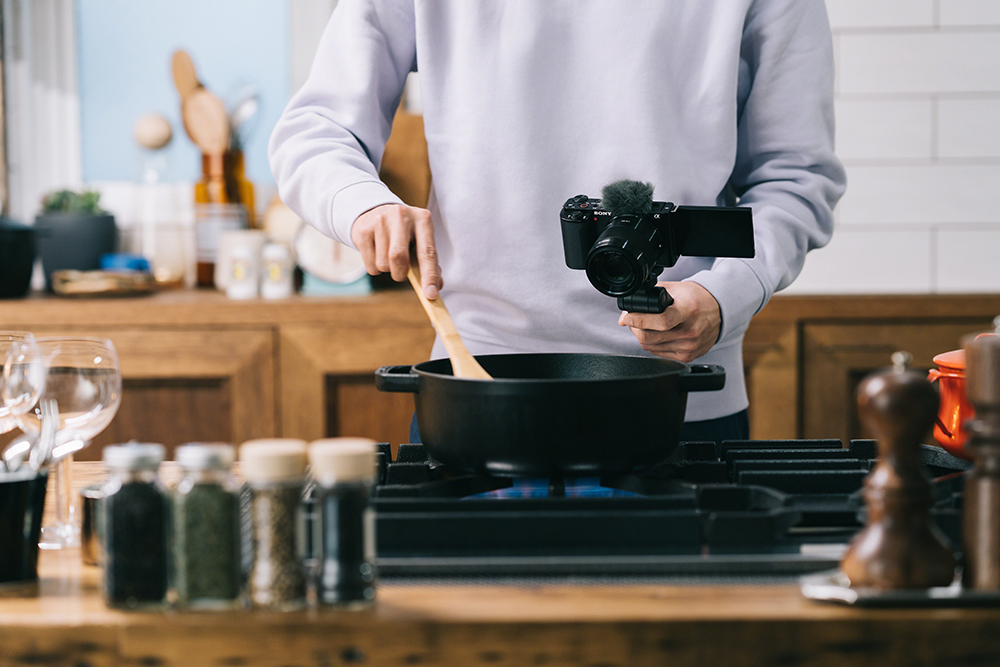 Another essential feature for premium YouTube content is shooting hyper-clear slow-motion footage at 120 frames per second. It is a high-end camera feature packed into a vlogging camera you can almost pocket! 
The Sony ZV-E10 records UHD 4k and Full HD 1080 via the 100 Mb/s XAVC S format for the spec hungry videographers out there. Or, if you're recording to an external drive or monitor, it captures pristine and uncompressed 4:2:2. With specifications like this, it's another boon for vloggers out there wanting a powerful camera to deliver their very best content. 
Catch Them All With Autofocus and SteadyShot
If you're familiar with Sony digital mirrorless cameras, you'll know that Sony is unmatched in autofocus performance. That impressive APS-C image sensor incorporates the 425-point Fast Hybrid AF (Autofocus) system. It delivers ultra-fast and accurate focus performance in all lighting conditions. And when we say ultra-fast, we mean as little as 0.02-seconds! Fortunately, the Sony ZV-E10 has inherited that acclaimed autofocus performance.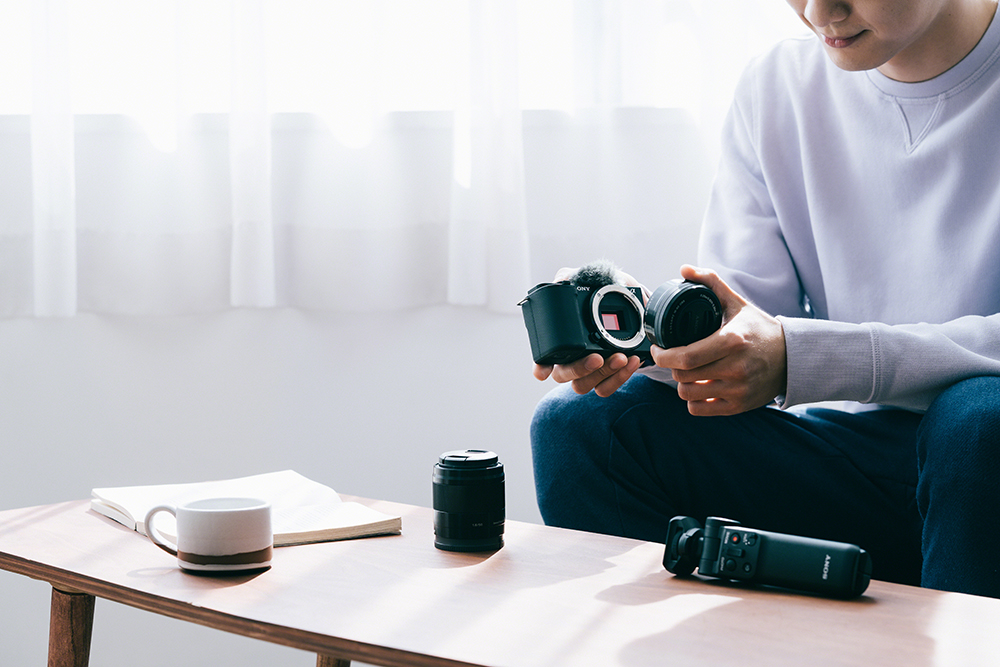 Sony's Real-Time Eye AF is included on the ZV-E10 to prioritise focusing on human and animal eyes! Not only will you gain fast focus on eyes, but the AI tracking systems will hold that focus while your subjects are on the move. So regardless of capturing people in the street or animals on the run, you're covered. 
The Sony ZV-E10 is equipped with Sony's Active SteadyShot image stabilisation to optimise the autofocus performance fully. Trust us; your subscribers will thank you for it! For those of you that love to walk and talk into your camera, the image stabilisation will aid in creating smooth and non-jarring video. 
How Good Will It Sound?
You need to keep in mind that Sony is also the developer of some of the worlds best audio equipment. After all, they developed the original Sony Walkman in sports yellow – you may have to Google that one. As this is an all-in-one vlogging solution, you need to be able to capture stunning high-fidelity audio without needing additional gear.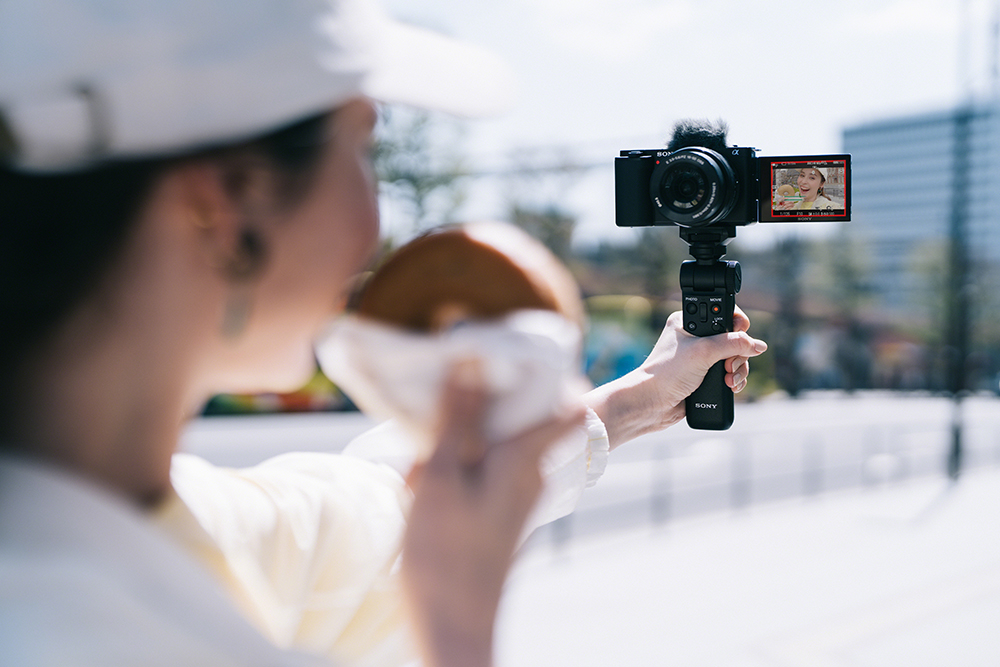 The top plate of the Sony ZV-E10 is home to a complex built-in microphone system. It features a built-in directional, three capsule microphone. However, if you want to elevate your audio game, the ZV-E10 features a hot shoe and a 3.5mm mic jack allowing you to fit a range of microphones. Plus, the included windshield means you can work outdoors and in windy conditions and still capture crisp audio. 
Specialist Shooting Modes and Features
Capture and Share
Aside from being a cracker of a stills and video camera, the Sony ZV-E10 has specialty features ideal for vlogging and live streaming. Yes, we said live streaming – directly from the camera! The ZV-E10 includes built-in Bluetooth and Wi-Fie connectivity to transfer photos and video to your smartphone effortlessly. From there, it's a simple move to connect and share your content directly to social media platforms such as TikTok, YouTube and Instagram. You can even use your smartphone as a remote control for the camera, allowing you to set up and step back and capture content remotely.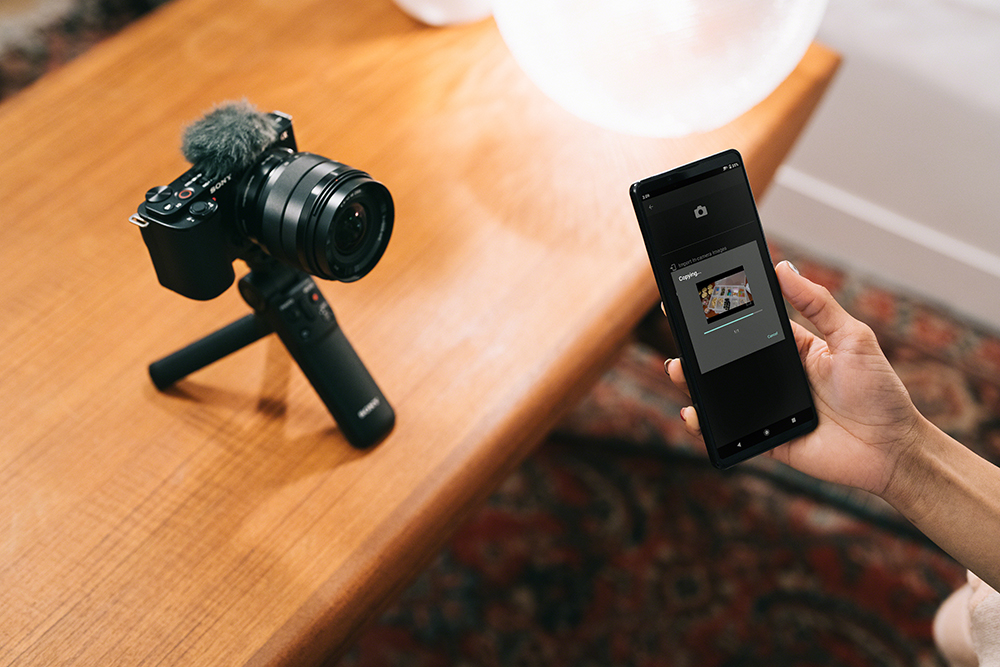 One-touch Bokeh Switch
Bokeh is the dreamy, creamy background pro-videographers love to capture in a scene. The Sony ZV-E10 takes the hassle out of background blur with the One-touch Bokeh Switch. Your foreground subject will be in crisp focus, while your background will blur to remove distraction and generate a natural-looking depth of field. Applying this effect is fast and instant while the results speak for themselves. 
Soft Skin Effect
Anyone creating content or acting as a brand influencer in the beauty industry will love the Soft Skin Effect. It is an application that virtually softens the skin without losing image sharpness or detail. Wrinkles and blemishes automatically soften and blend into the skin to create a highly glamorous and flattering look. What's more, there are settings for the strength of the soft skin effect.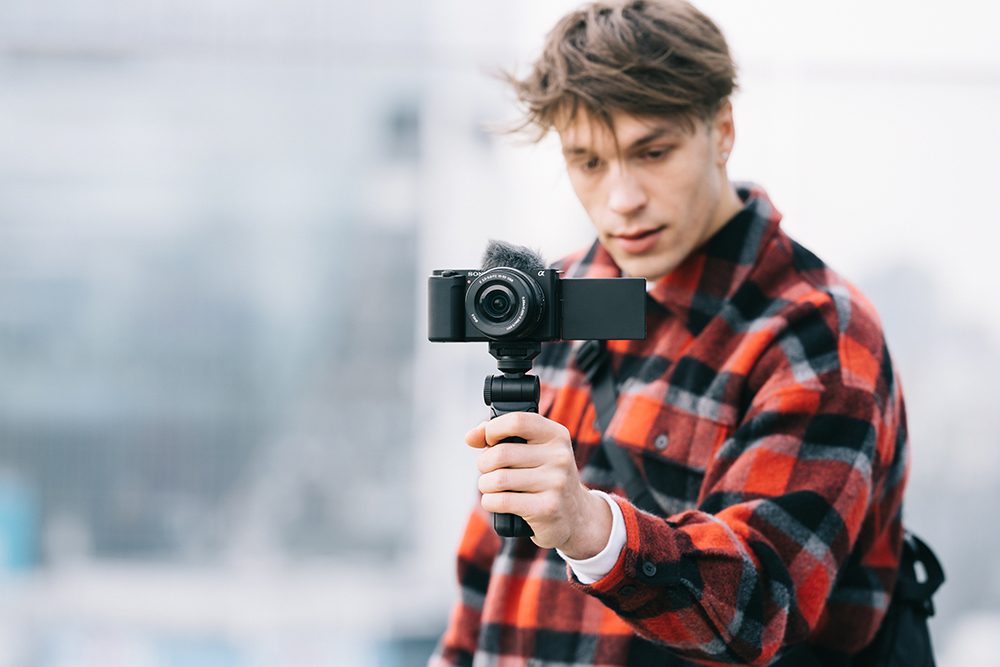 Face-Priority Auto Exposure 
With the help of Sony's Face Tracking system, the ZV-E10 features the ability to adjust the exposure of the face automatically. Suppose you're presenting your video at night or in a low-lit studio. In that case, Face-Priority Auto Exposure will use the tracking system to recognise your face and keep it correctly exposed. It's convenient to vlog on the fly and don't have time to set up studio lights. 
Product Showcase
If you're a brand ambassador or product vlogger, the Sony AZ-E10's Product Showcase feature is a fantastic application. Imagine your next product unboxing where you shift focus between your face and the product in your hands. Rather than one being in focus while the other is perpetually out of focus, what if you could have both? Product Showcase works much like autofocus tracking however will shift focus between your face and a foreground element such as a product. 
Sony ZV-E10 – Vlogging Dream Machine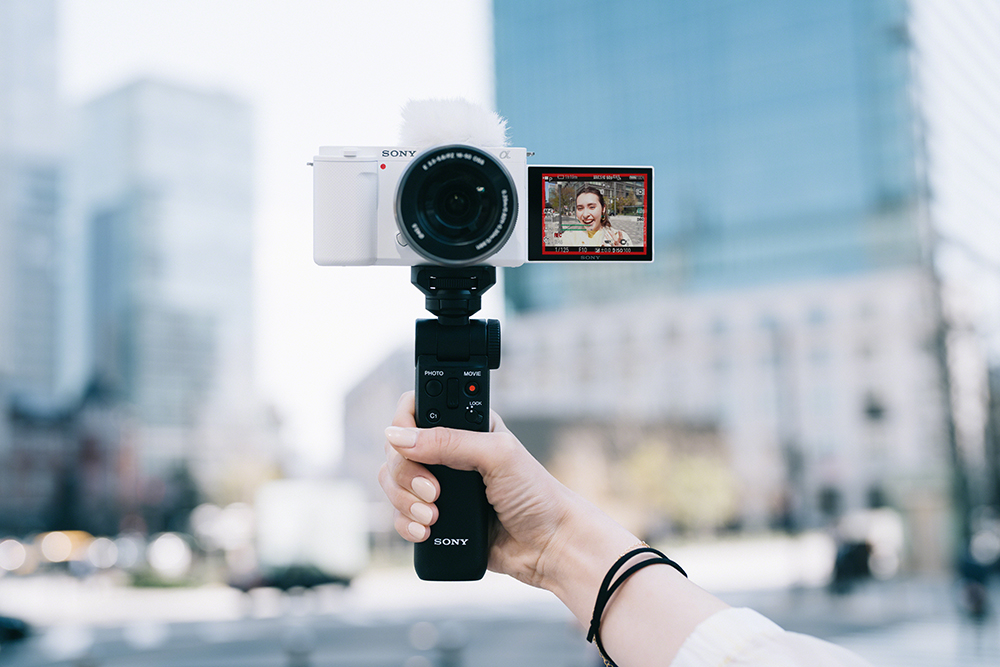 The Sony ZV-E10 is a dream vlogging machine thanks to its powerful performance and sensible features. Online content creators, influencers and brand ambassadors should make a move to Sony's ZV-E10 to optimise their online presence. Elevate the quality of your content with impressive 4K video, images stabilisation, high-end audio and straightforward to apply vlogging features. Video is king, and now is the time to reap the rewards of content-hungry subscribers. Head in-store or online at Camera Electronic to take a look at the Sony ZV-E10 – available in white, black and kit options.