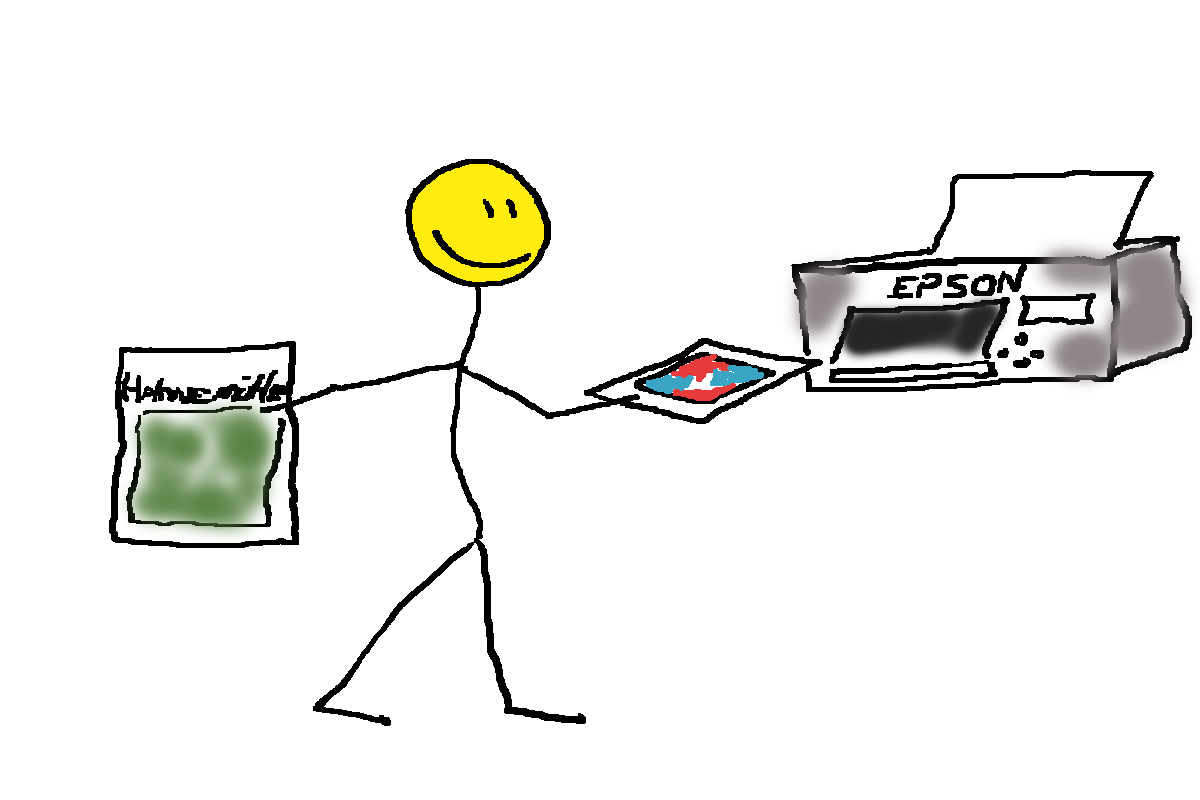 14 Sep

Playing With Paper Dolls

I'm great at making my mind up about things, as long as I can dislike them. Negativity is one of my positive traits – it lets me know where I don't want to go and what I don't want to do. I generally discover these two things after I've gone there and done them.

Sometimes it's nice to make a change and find out the good stuff rather than the bad – and in the back end of the Stirling Street shop is a rack of producs that will let me do just that – the sample paper packs.

I was drawn to this familiar area the other week by the two green packets you see here:

They are made of unusual materials – hemp and cotton in one case and agave in the other. Both are listed on their respective packets as fast growing, sustainable, and renewable – an important thought for some photographers. You get three A4 sheets in each packet to to test with colour or monochrome printing. Quite apart from the economic and political aspects of this, they may very well be good papers.

You get more of a variety of things to choose from with the other two packets – fine art glossy and fine art smooth. It's also accurate to say that you get more chances to be confused, as some of these papers from Hahnemühle need adjustment to the profile instructions of your printer and you may not remember to do this for each change you ring in. It's worth while getting yourself up to date with this aspect of your workflow before you try to assess minute differences to paper surface and ink behaviour.

The biggest challenge that I have faced with the paper/printing is not getting the interface between the computer and the printer clean and regulated – nor is it with the choice of surface and texture. I routinely purchase paper that is exactly calibrated to my printer and let the machines agree with each other upon their own terms. I have learned the ritual that matches the print size to the paper target and the appropriate ink choice for it – and I have limited my paper choices to a pedestrian two; semigloss lustre and matt white. None of the people for whom I print has ever raised a complaint about a mismatch of paper to ink.

But the images I seek to make can sometimes be – shall we say – less rewarding than they might be. And this is a phenomenon that can change daily. The change is too erratic and too short lived to be computer error – and I do rectify my monitor's colours each month with a Spyder product. I have come to the conclusion that a good deal of the problematic look can come from my own eyesight changing from day to day. If I do something on a good day and see it on an equally good one, all is well. A good day for editing and a bad day for viewing the result – or vice versa – means less satisfaction.

The results of a bad day's seeing while editing then viewed on a bad day's looking can be a truly modern art experience. I'd be delighted with this if I was Edvard Munch but otherwise I tend to scream.

In any case, go see the eye doctor if you need to and try out some of the papers in the meantime.