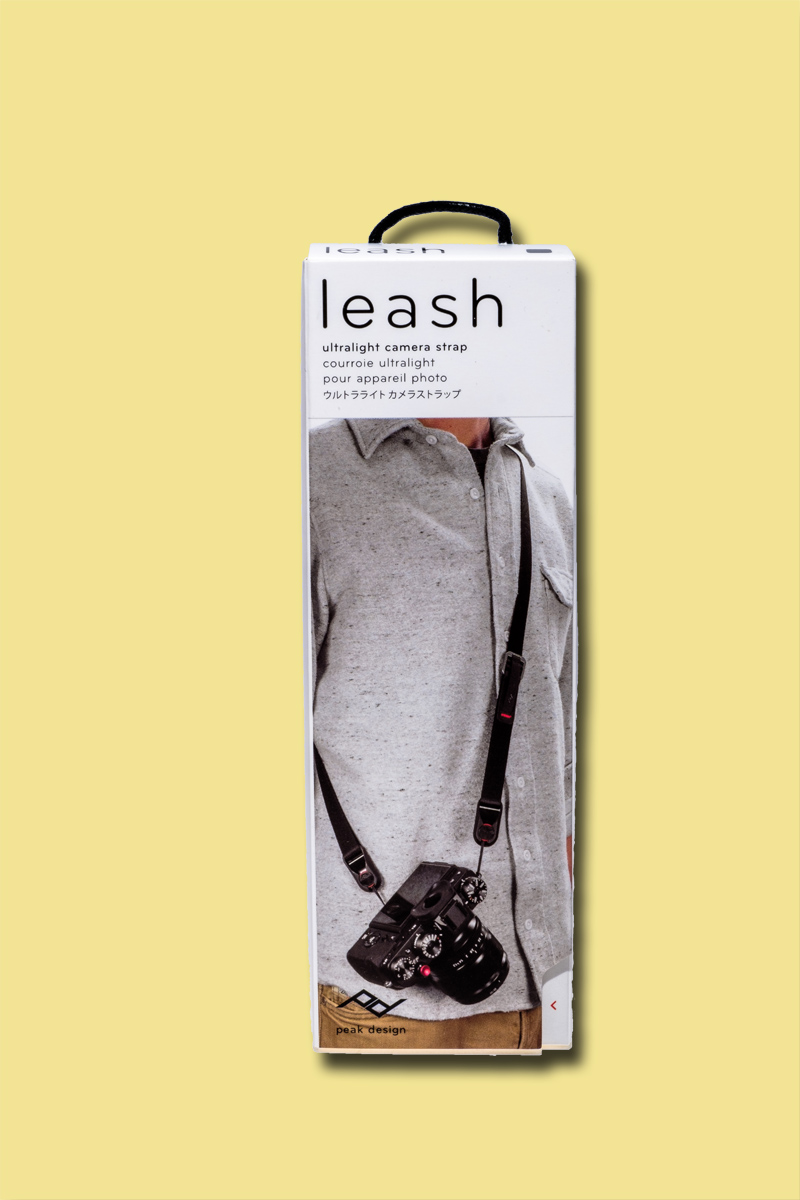 13 Jun

Flying With the China Un-Clipper – Peak Design

Nothing like a tortured pun to start the morning, eh? Well, read on – it gets worse.

The Peak Design people have always had innovative ideas about slinging cameras. We saw them first in the era of the quick-draw holster camera rig – this was about five years ago – when the flavour of the month was finding some way to suspend a heavy camera from your belt or backpack strap instead of hanging it round your neck.

Their offering was a two-part metal plate that sandwiched the belt and then accepted a dedicated plate attached to the camera. It actually worked, but like many such rigs, it was fiddly to set up and required a good degree of faith to hang expensive gear on while you clambered over rocks and bodies. And it didn't quite have the kewl factor of some of the other contenders. ( My favourite was the Mississippi Traffic Cop rig that one English firm put out. You got a Sam Browne Belt made with enough bulk to suspend a hawg laig pistol…much less a camera. You have no idea the strength of character it took for me not to buy that one, together with dark sunglasses and a white motorcycle helmet…

But back to Peak Design. They still make a version in metal of their original clip and it's actually getting better. They also make lots of newer and better things, one of which may be this " Leash " camera strap. I love parts of it, hate parts of it , and am amused by the packaging.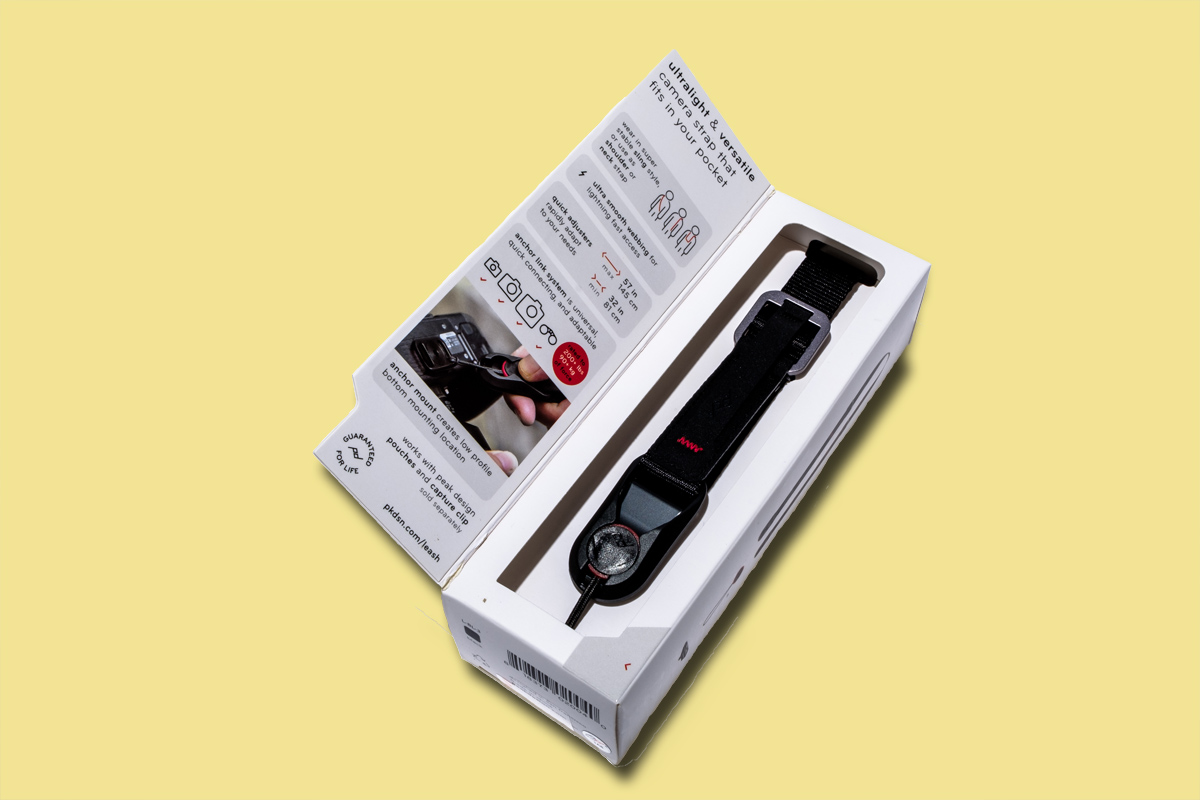 Amusement? Well, it says that it is made in China – hence the headline. But it also states that it is designed in San Francisco and supports the Conservation Alliance. A political strap…
Well, it's a good-looking nylon weave and the adjustment buckle is superb. The clip on-clip 0ff feature seems to work well, and the bottom attachment included with the set bids fair to solve some of the awkward slinging problems that some people have when they want to get a camera up to the eye but not have the right-hand-side fouled with a conventional strap. A nice compromise between the regular neck-cutter and the bottom slings that have also become prevalent.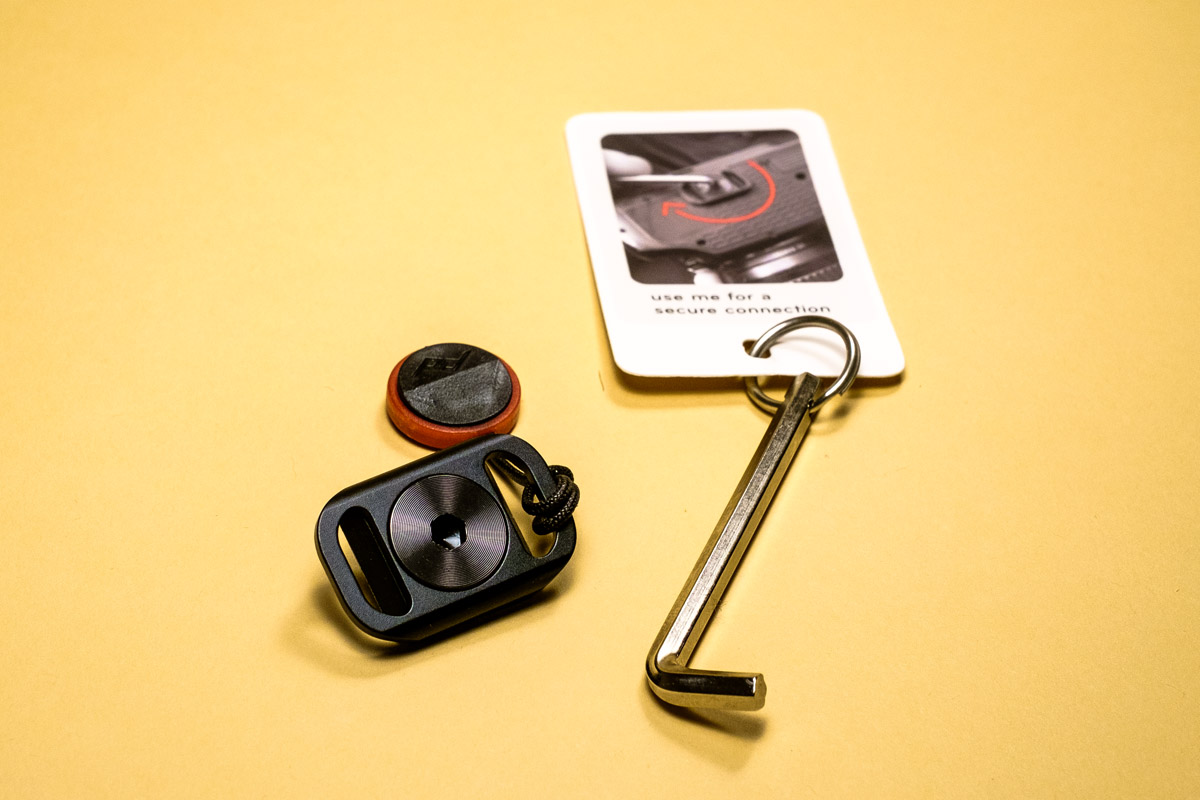 The only pest of it is that it uses up the tripod screw socket and needs a dedicated allen key to remove it.
My only other hesitation revolves around that string-and-puck connector. It slips in fine and locks in place but in the end you depend upon a nylon thread to hang the camera and lens. Peak Design started out with a thicker nylon, then went to the current one, and are apparently going to move back to thicker material – and will replace any worn thin connectors before they fail.
Look, fly with the clipper by all means…but fly it on a smaller camera. One of the small Sony, Olympus, Fujifilm, or Canon  compacts or mirror-less and this leash should be just about perfect. And keep and eye on the nylon connector.