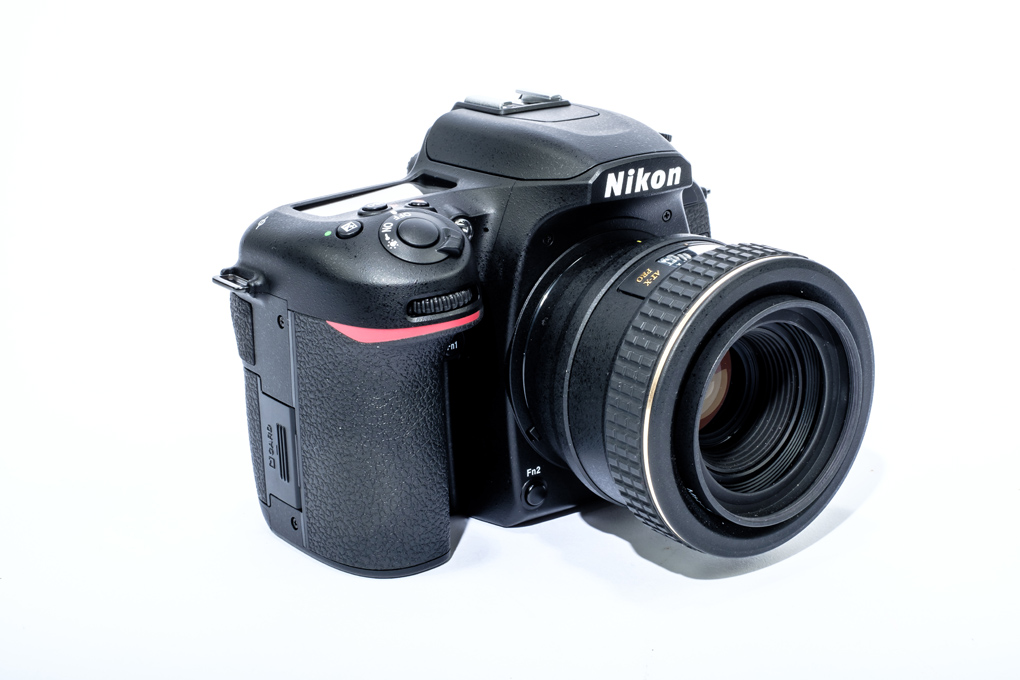 13 Feb

Opening The Box – Number One – A Reassessment Of The Nikon D7500

As readers of this column have discovered in the past, I like to play the fool. Certain people have suggested that it is not an act. In any case I restrict it to times when I am awake…

It is a useful thing to do, and I apply the technique when it comes to testing out photographic equipment from the shop. I can't tell experts anything that they don't know already – indeed it's hard enough to get some of them to even talk to me. But I can fool around enough with what I do and keep careful notes to help the less – expert readers have an easier time of it. Thus I proceeded to take out two cameras – A Nikon D7500 and a Panasonic DC-G9 – and tried to understand them in a practical sense. I used my own specialty to do it.

Note: Dinna fash yersel' over the fact that one is a Micro 4/3 mirror-less body and one is a APS-C DSLR. Don't say But, But, about the video capabilities of them – I did not compare that at all. If it is important to you, pursue your interest through the tech sites that talk video…or come down to Camera Electronic and talk to one of the staff members who shoot extensive amounts of video. Strike a chord with someone's interests and you can talk each other's ears off.

Just regard these as two modern cameras that might well come onto your hands in exchange for a decent chunk of money and imagine what using them would be like.

Okay: The Nikon today. I chose it over a similar Canon because I had a lens that I knew very well with a Nikon fitting that I could use to assess the performance. Indeed I could also gauge the performance against my normal studio rig – a Fujifilm camera – but that was just for me and didn't feature in the assessment.

a. The electricals.

Simple battery, big charger, figure of 8 cord, Plugged in and a couple of hours saw the battery full. That's how we want to go – no complex connections. The Nikon battery is the one on the left of the photo.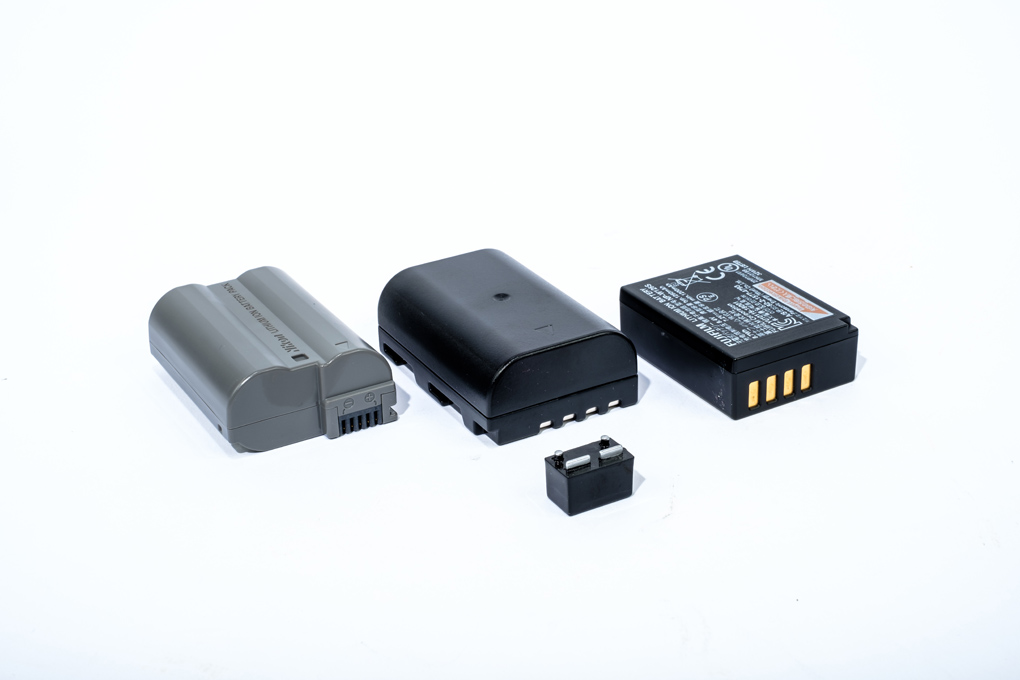 b. The cards.
Only one slot for this camera, but fortunately it is side-accessible.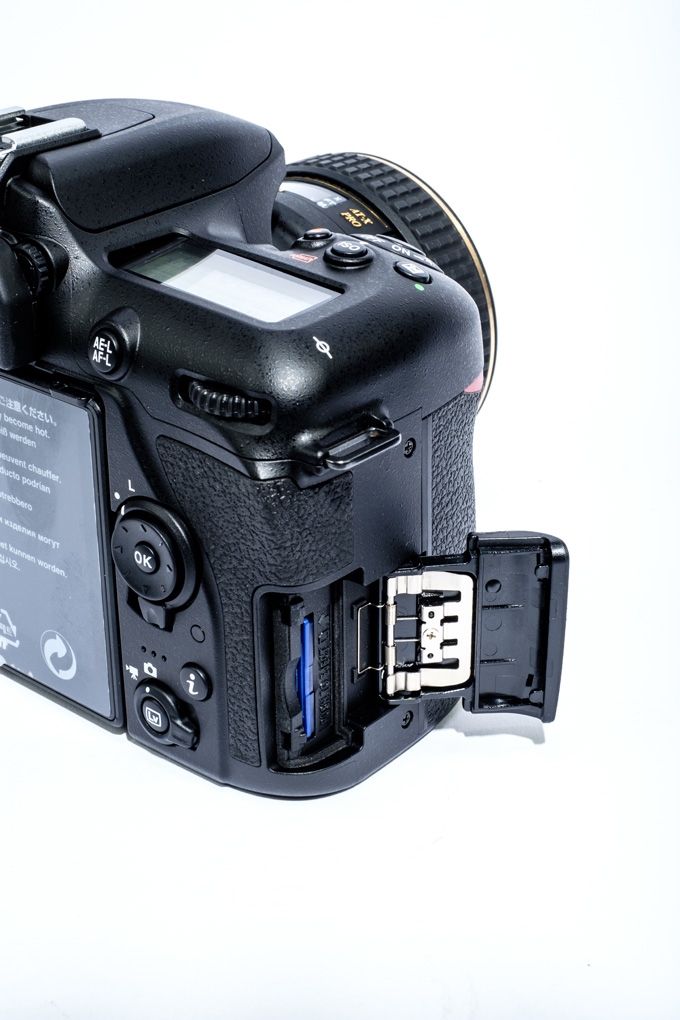 c. The hand grip.
Good big thing, feels secure, and doesn't have the spongy Nikon rubber that swells and unsticks itself after a few months of my sweaty hands.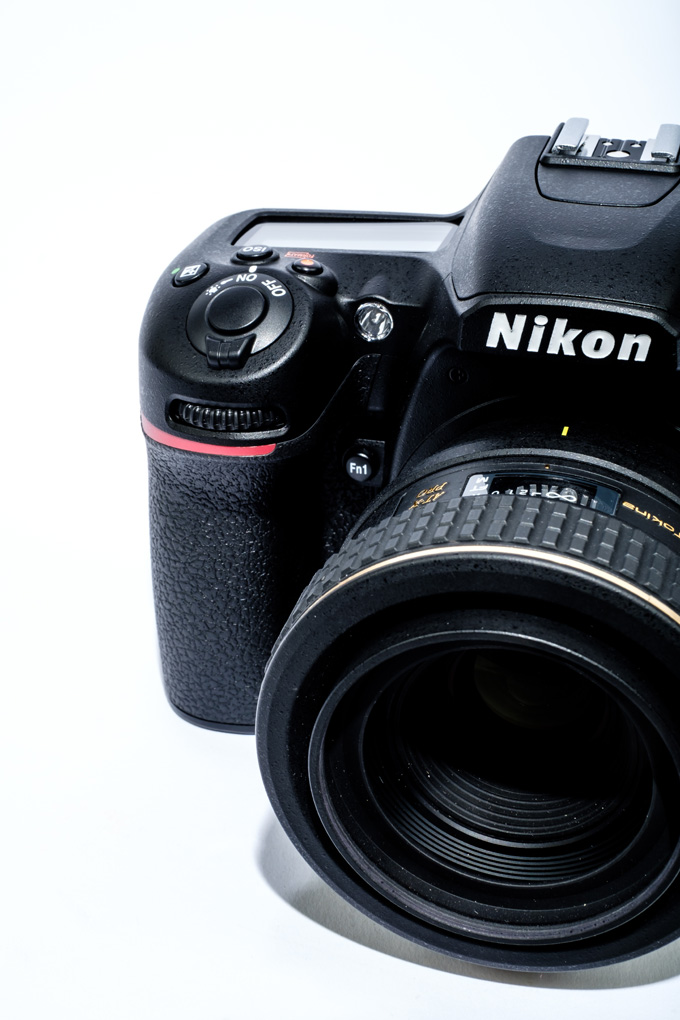 d. Ins and outs.
Every odd connector is hidden in side panels and there are graphics telling me that there is a Bluetooth transmission going on and that WiFi will be possible.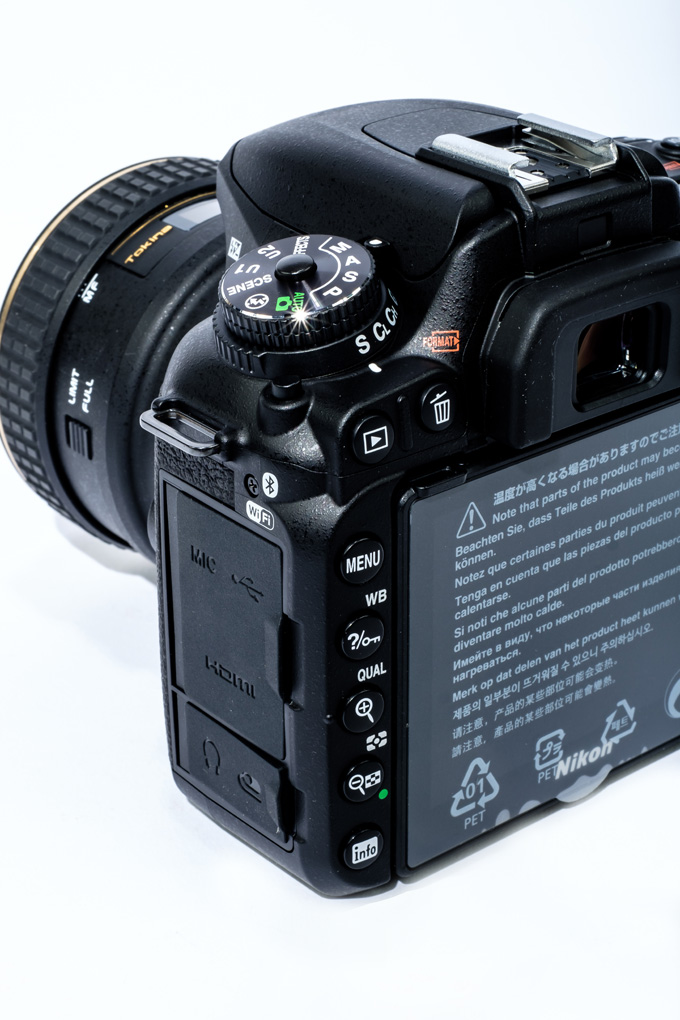 e. Buttons and bows.
Well, that should be buttons and wheels, but they never made a musical comedy song with that title…There are 28 things to press or twist on this DSLR body. As every one of those has at least two choices…and some have far more…you are going to be at the mercy of the factory when you put the battery in and turn it on. You have to hope that they have set defaults that will produce something visible because if they haven't, you are going to have a long read ahead of you.
Note that there are two front-panel function buttons.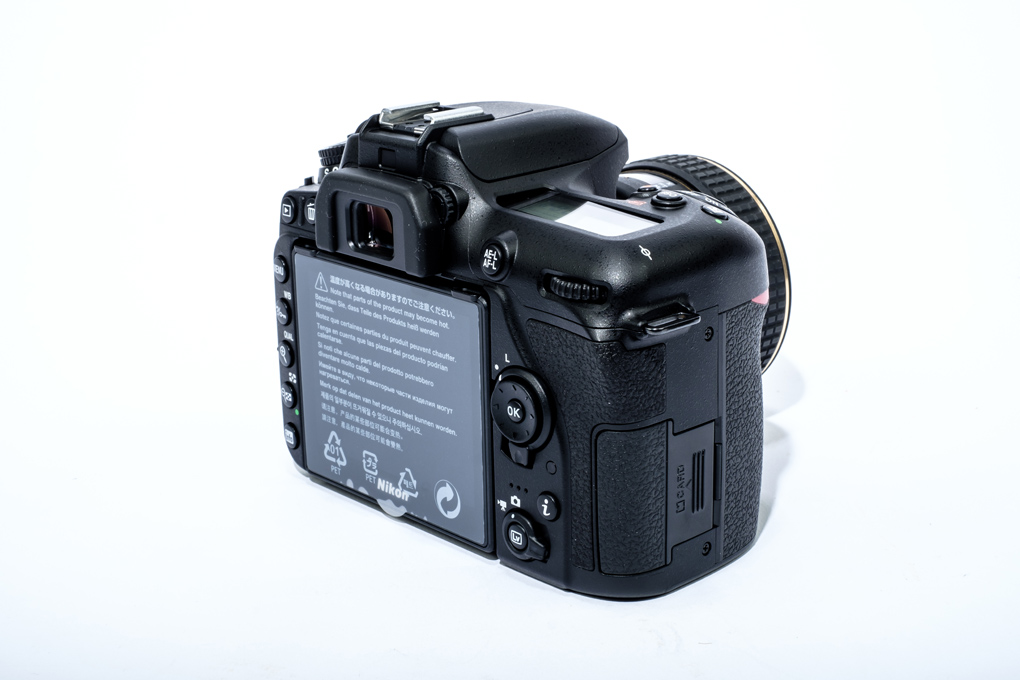 f. The finder.
Dead in the center on the top with the obligatory dioptre wheel. Big enough to let this spectacle-wearer see the screen clearly.
g. The screen.
A one-way fold-down LCD screen on a suitably sturdy frame.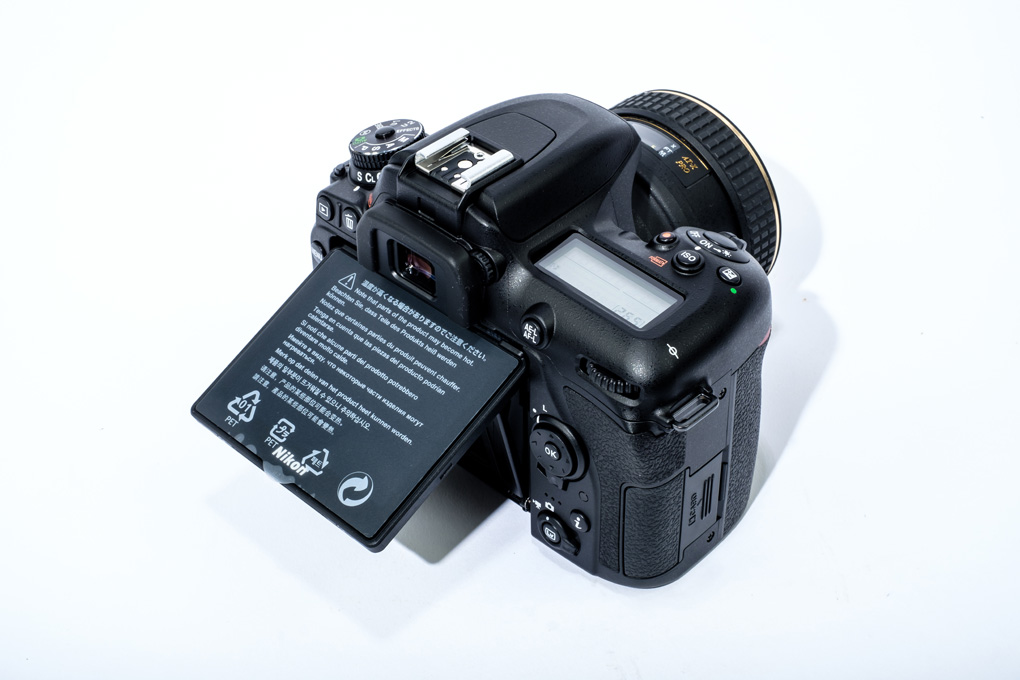 h. Control reportage.
A separate LCD screen on the RHS, and an impressively big repeat of all pertinent data on the big screen. It is default to black letters on white screen. The drive and mode choices are mechanical on a concentric control stack on the LHS of the top plate – both layers positively lockable.
The lens you see is Ol' Reliable – the studio Tokina 35mm f:2.8 macro. In this case I can use it directly on the Nikon mount and do not need to do the adapter shuffle. I did take the opportunity to try it on AF for the novelty, but it is a noisy lens. Once satisfied that it worked in this mode I put it back to MF like normal. I prefer to make my own focusing mistakes, thank you…
Note the simple strap holding arrangements. Debate is open on whether cameras should have single posts out the sides or these metal loops. One maker even opted for a peek-a-boo socket into which you plugged a dedicated shaft. Of course they once opted for suspending their camera vertically from the end, and got commercially caned for it. ( Had one, liked it…) You must decide for yourselves.
You'll have had enough for the morning – your coffee is getting cold and you still haven't read DP Review. Come back tomorrow and see what the D7500 actually does.