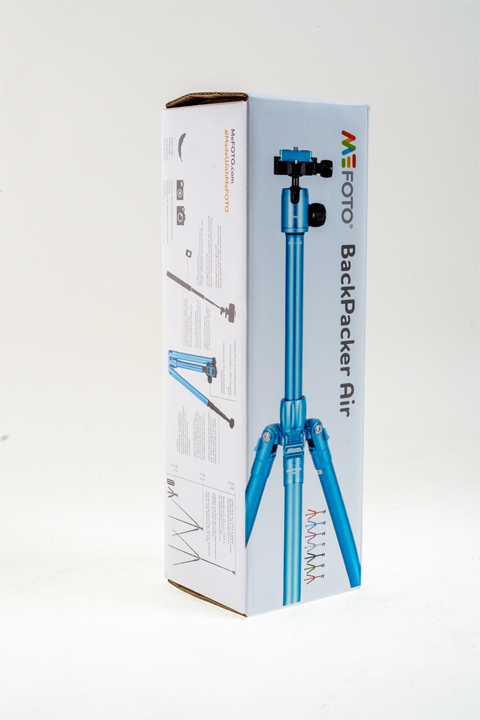 11 Aug

Fifteen Legs Week – Part Five – The Tower Of Orange

Or, I hasten to add, the tower of blue, silver, or black. You pays your money and you takes your choice with the MeFoto Backpacker Air.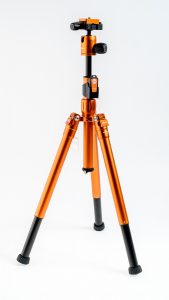 This is the clever one of the week's offerings…not so much on the basis of engineering, but on the side of actual practical usage. It is a tripod that knows how much trouble you want to get into, and is prepared to assist…
The basic structure is intended for a small camera – compact, bridge, mirrorless. Or even a large phone or pad, if you are prepared to get one of the clever little Jobo clamps to attach it. It is a traveller's device, as the name would suggest, and will not use up much of your precious weight allowance if you have to pack it in your suitcase. Not as small as a tabletopper, but more capable.
To start with, it has a proper mini Arca-size plate and grip. If your camera already has an Arca rail you can leave off the plate.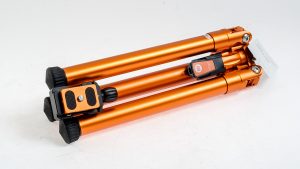 Then, it has a re-fold design. Smaller and smaller.
Then, the legs are internal twist-lock. No unsightly bumps. Remember that this is designed for small cameras.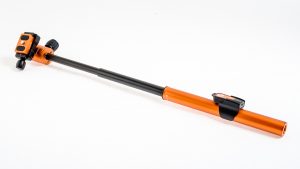 The centre column rises in three parts. And detaches to become a selfie stick…with a free control pad attached to the column. There's your cable release needs covered as well.
It has a proper little ball head.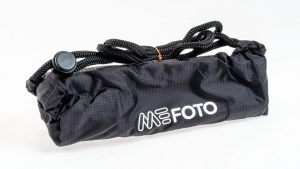 And it comes in a proper little carry case with shoulder cord.
And here's the best part – it's bright metallic orange. When you set it up in a dim interior or out on a dark field it will still be visible to all the rest of the tourists and locals who are milling around. Hopefully, they won't stumble over it and fall down and break a leg. You won't spend hours in the local hospital or tropical lubyanka trying to buy your way out of trouble. And that's priceless.