29 May

Rent Me A Story – Tell Me A Canon C100 Mark II Camera

If you have a story to tell, and want to do it in professional style, the Camera Electronic Rental Department is your friend. So is a pot of coffee and a big pad of yellow paper, but they won't make your video look good – CE and Canon will.

The rental Department has a new body to offer you – the Canon C100 Mark II video camera. It is the latest in a line of wholly professional HD video cameras that have gone to weddings, industrial sites, sports events, and advertising shoots all over Western Australia in the past few years.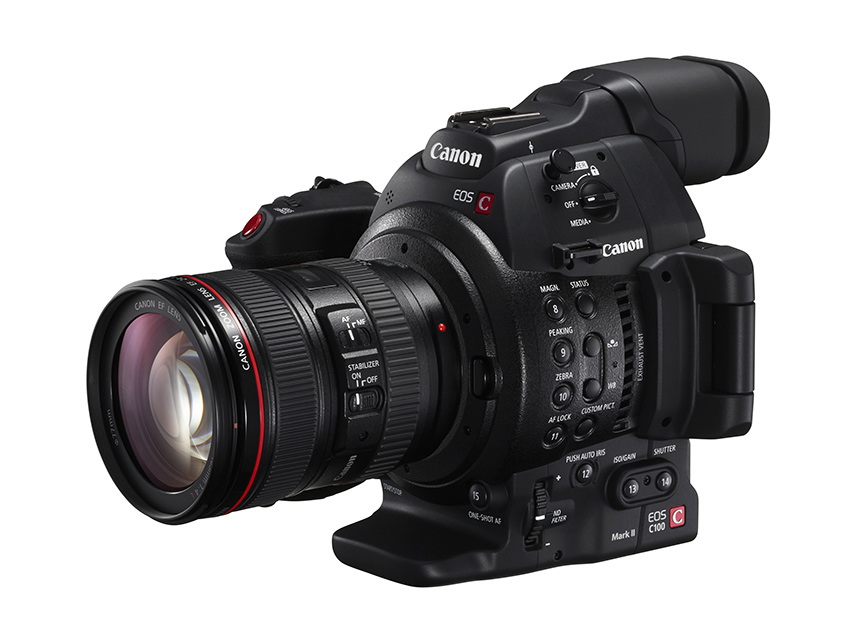 The camera body is not all that big – forget the giant video cameras of the 80's and 90's – and is well suited to modest tripod and head support. You may desire a giant Hollywood crane and dolly system, and good on you if the budget stretches to that, but using the Canon C100 Mark II you can get by with smaller gear.
You'll still get the benefits of using the Canon EF mount for the lens and can record in AVCHD and Mp4 . There is full 1920 x 1080 available plus many of the smaller formats. It is a super 35mm size with 8.3 Mpixel CMOS sensor.
The focusing is also special – dual pixel CMOS AF with the ability to track a centre-frame subject.
You can also cope with action knowing that there will be reduced rolling-frame shutter artefacts. Mind you, some of the people I know would be improved by a little smearing and distortion, but that is another matter…
We also want to point out that the other things that you need for spectacular video – the Canon range of EF lenses, the Manfrotto video tripods – the lights and monitors – are also available for rental at Camera Electronic. If you are a film-maker flying into Perth you can deliberately decide to leave your gear at home and hire ours – and save yourself the anxiety and expense of air travel. You can reserve the nerves for the script, the talent, and the weather.
Still shooters, as well, can benefit from this pre-positioned thinking. Bringing a multi-thousand-dollar long lens into WA is one thing…because you need it for the surfing or sport or wildlife – but watching it trundle down the baggage belt at the airport is another. How much nicer to be able to stop in and pick up a pre-ordered lens for the WA portion of a holiday or assignment and to be able to go out to your shoot knowing that it did not hit the tarmac before you did…
To find out more about Camera Electronic Rental Department click here.
To find out more about the Canon C100 Mark II Camera click here.