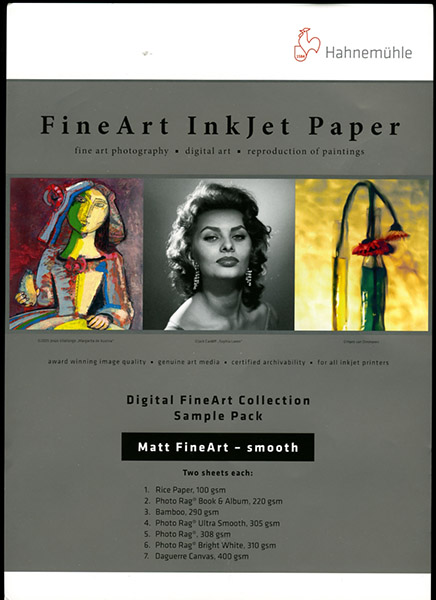 18 Jan

The Paper Shuffle – Part Three – The Smooth German Connection

Hahnemühle are historic papermakers from Dassel in Lower Saxony. With a lot of small creeks ( " bachs " ) running through the place and forests nearby, it has proved to be a good location to make woodpulp and paper – they've apparently been doing it since 1584.

Currently there is a wide selection of papers that have been turned to the inkjet printing application from the company. Camera Electronic have had them for years and supplied some very special surfaces in large flat sheets. As well, there are rolls avaiable for the larger inkjet printers.

The Hahnemühle sample books have always been amazing things – exotic surfaces and extremely well-printed images that make you jealous. As well, they produuce a number of sampler packs to let people assess the things for themselves…but therein lies a problem. What are you supposed to be looking for and how will you know it when you see it?

Add to this the artistic question of what image suits which paper and you have a pretty wide field of speculation. I'll admit to buying a pack of Hahnemühle paper a few years ago based upon the name of it and a mistaken assessment of my own printing skills…and disappointing myself. But the story did have a happy ending – I eventually found which of my images would suit the surface and got the last 5 sheets of the packet to print perfectly.

Well, here's the smooth surfaces under the examining lens. Remember that these are all matt and will need the matt ink option – plus they will not quite get to the black of a gloss surface. But they are stylish and marvellously sturdy – a print on the 308 surface has a really impressive feel.
See the lay of the Rice Paper?
The 220gsm and less emphasised texture of this Photo Rag Book & Album means that you will be able to pack more pictures into the album and any text printeed with the image will be easy to read.
Bamboo. It is not necessarily a surface dedicated to Asian images…but the classic look of misty mountains and clouds would be well-suited to this broken surface. The disruption of it would probably suit rural images with natural shapes better than urban ones with man-made straight lines.
Ah, here we go for that technical image. The Photo Rag Ultra Smooth is 305 gsm but does not raise as many irregularities on the surface and would not disrupt fine detail.
The classic Hahnemühle fine art paper, Photo Rag 308 is often seen with the big roll printers. It supports some of the best landscape art in this state as well as commercial portraiture. See how it breaks the light just that little bit more than the Ultra Smooth?
Disregard what your screen or my camera shot might say – this is a noticeably whiter paper than the 308, as wll as picking up a little more weight; 310gsm.
I cannot say what this Daguerre Canvas looks like with an image because I have been told that my printer will not print canvas. I've been told a lot of things in the past few years but gone right ahead and done them anyway. I'll tel you what happens on a future post…
And that is the idea of these sample packs.They're A4 with two sheets of each surface in the parcel at a bargain price. You could do far worse than just getting a pack, going over your pictures for suitable art, and putting them through your printer. Hahnemühle have the profiles on-line, and they will be necessary, but that is easily done.