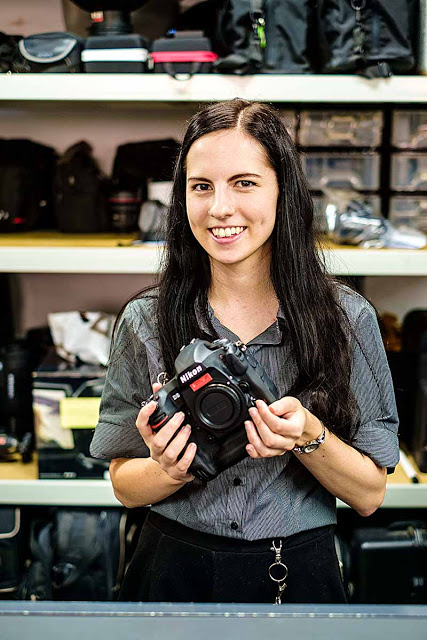 04 Jan

Getting Smarter With Camera Electronic

That's Evelyn in our Rental Department. We're not selling her:

a. She's far too valuable.

b. She's too difficult to wrap.

The interesting thing for you customers out there is that in many cases she is the person you want to talk to if you are unsure about something – particularly if you are unsure what you want to buy.

Oh, sure, all the other staff can answer your questions about new and used equipment, and they can point out the features and controls on the examples that are in the shop. And you can heft them and look through the viewfinders and snap off the shutters…but if the photography you really want to do is outside of a small shop with fluorescent lighting, you really need to go somewhere else with the gear…

Now let's face it – we all haunt the internet – you're reading this right now on some sort of screen – and we all speculate about what sort of equipment would really suit us. We read the reviews and forums and on-line arguments. We listen to our friends tell us what we need. We even read magazines that are dedicated to telling us what we want, and can do so for cars, washing machines, and cameras all in one issue…But when it comes to actually knowing if something is what we want and need, we are still in the dark. We need help. Enter Evelyn with help.

She is in charge of an extensive range of top-quality camera gear – also lenses and lighting goods – that is hired out to Perth's professional photographers. All maintained perfectly and charged up and ready to go. The pros know what they want – but if an amateur doesn't know what they want, they can also benefit from the service. Here's and example of how to do it:

Say you are unsure whether you should get a full-frame or small-frame camera. You are unsure of which brand to go for. You want to do several things – landscape shots, school sports shots, and flower shots.

Weekend one – you hire a small-frame DSLR with a macro lens and a telephoto. You try it out all weekend on the three types of shooting you intend to do. Take all the pictures in RAW and JPEG and see if your image-editing program on your computer will decode the RAW. You can spend the weekdays processing your results.

Weekend two – You hire a full-frame camera from the opposing maker – just to experience the ergonomics of it. Get a zoom and a wide angle and go out and take two days worth of pictures. Then process them in the week.

Weekend three – hire a mirror-less system camera body and one average zoom lens. Use it like you did the others and note the different weight that you are carrying. Also try it on the sports and see if it reacts as fast as you will need. Process the pictures and then compare all the results on your screen. Many image-editing programs will allow you to stack three images side-by-side on the same screen.

You have now got the information you need – gathered in the most appropriate fashion – about your own photography. You have paid out three hire fees and have gotten…a gret deal smarter. If you purchase something within two weeks that is the exact same as the gear that you hired out, you may even be able to get a portion of the rental fee credited toward the purchase.

In any case, you are far better off – you will not be kicking yourself for committing all your photo money to a system that is neither effective nor comfortable for you. You will save the grief of changing a system. Your pictures will be better for it.