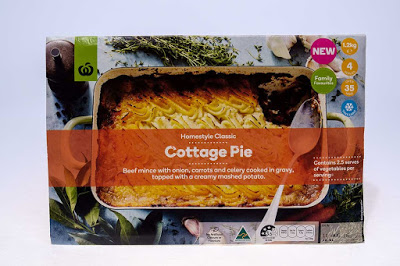 21 Nov

Selling Your Birthright For A Mess Of Cottage (Pie) – Food Photography

Well, it's not as bad as all that – and not as biblical either. But you might like to study the picture in the header and then read on.

We bought the frozen cottage pie from our local Woolworths branch and cooked it for dinner last week. It was excellent. Perhaps a little blander than the home-made version I cook myself, but it did have a a lot of vegetables, meat, and gravy and a good thick layer of mashed potatoes on top. It took an hour in the oven but it was worth the wait for dinner on a cold night. I can thoroughly recommend it to anyone.

Anyone except a food photographer, that is. And graphic designers might like to avert their eyes as they slide the cover off the tray. The problem is not the pie – it is the advertising on the wrapper.

Many of the elements of design on the wrapper are there for a good reason; the nutrition information, the ingredients list, the bar code, the cooking instructions. They have not gone overboard with hype – nearly everything is straightforward description…but they have been put forward in such an awkward manner as to damage the appeal of the product.
The layout of the design is bitty – the colour choice is surprisingly dull for being orange. The lettering is all there but the bleed-through of the image from behind it means it is hard to read. Nothing leaps at you.
The image used is honest – that is a cottage pie they have photographed – but it has been lit in such a way as to suggest that it is fairly burnt on the top edge. The spoon used to show that it has been dished out looks neither clean nor well-positioned. The ingredients ranged on the outside have very confusing shadows that mask their shapes. It is just not the sort of food shot that you would imagine fronting a nationally-sold product from a major maker.
So, what is the point of this weblog post, apart from dissing the pie picture? Well, you might be a pie shooter yourself and want to take your food illustrations to a higher level. My suggestion is that you give Shannon a ring at Shoot Photography and see when the next workshop will be held By Stefan Gosatti – he does a very good hands-on explanation of how to do real food photography that makes the subjects look artistic, edible, and saleable.
I have no idea if he makes cottage pie but if he does it will look wonderful.
The next Food Photography workshop with Stefan Gosatti is on tomorrow, Wednesday 23rd November!
See the Shoot website for more info and to book.