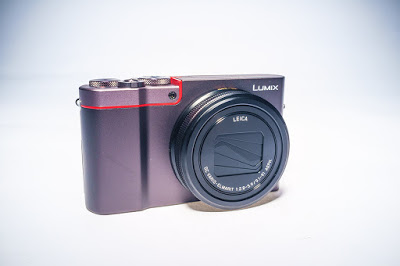 18 Oct

The Travel Trail – Panasonic Part One – The Silver Style

Today's Travel Trail brings us one of the more stylish of the Panasonic compact cameras. Those of you who have an eye to fashion may wish to look closely at the shape and colouration of this…

The Panasonic Lumix DMC TZ110 box says "Silver" but that is a kind of inadequate description for what looks very much like a two-tone titanium finish with a red accent stripe separating the different colours. Of course you can get these cameras in black, but the appearance of this on is so appealing that it rivets the eye instantly. Will we ever get past black boxes completely? No – but this is a good start.
The camera is the type that has a fixed zoom lens and provision for eye-level viewfinder as well as LCD screen viewing. For the tech-conscious it has a 1″ sensor and 20.1 megapixels MOS sensor. The lens is a 10 x optical zoom that gives you the angles of view from the classic (35mm film classic) 25mm wide-angle to 250mm telephoto. This instantly identifies this as an overseas travel camera.
Why? Because you need a long lens for Alaskan bears or African lions. And for surf shots closer to home. Of course you can take anything with the telephoto and bring it in closer, but the traveller who wants to do the world circuit with the least encumbrance of gear is the person for this camera.
Now remember that you can also shoot night time, parties, restaurants, family, and an amazing number of Australian travel photos with a smaller camera like this. The fact that you are carrying that much zoom power in pocket or purse means you are never caught wanting when something develops.
On a more serious technical note, the camera shoots 4K video – the current standard of excellence. It is literally a one-button process. The fact that the camera can shoot 4K means that Panasonic have also been able to do something rather magic – they have made arrangements for small bursts of recording that take different focus points during action sequences that let you go back later and select the exact peak of focus. Here's where the sports people faced with a moving object will cry with joy -no more missed shots.
Of course Panasonic have included a number of fun programs in the mode dial – panorama, miniature effect, picture effects, etc. Macro, stabilisation and WiFi are all included. Quite frankly, this camera and a small tablet are all you need for a world trip, and that is two pockets and a space in your luggage for the charger (I pack mine in my spare pair of shoes…), a spare battery, some cards, and a "I don't speak your language" app on the tablet should do it. If you get taken for a rich tourist by the look of the camera you'll have to talk your own way out of it.
PS: That's a no-joke Leica zoom lens made by some serious Panasonic workers. I know- I saw 'em being made.
See the Panasonic Lumix DMC TZ110 on the Camera Electronic website