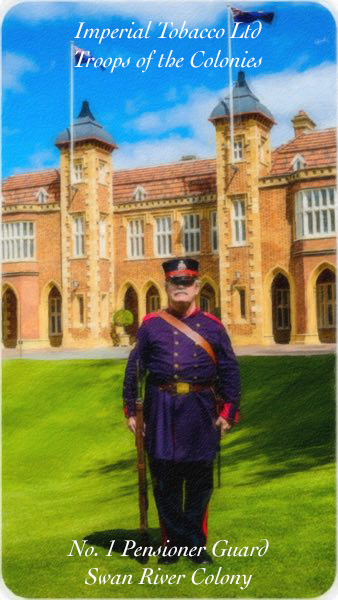 24 Oct

Huzzah For The Troops – Huzzah For The Photographers

A spring day out is an occsion to be treasured. A spring day out at Government House seeing how the ruling class lives even more so. And an opportunity to review the troops should never be missed.

Thus the pictures you see on this morning's blog. Perth on a sunny day can be brutal as far as contrast in lighting goes but the readers of this column are old hands at modifying this with fill-flash or seeking shady spots to shoot. In some cases the strong shade and light is exactly right for a shot evoking the era – witness our cigarette card of the Pensioner Guard . If you had gone to the open day as I did you could collect the entire series without risking your health…

Okay, that was the entertainment – here comes the commercial. A Fujifilm X-E2 camera with the 27mm f:2.8 lens was used to take all the pictures. An EF-42 flash was attached and set to +.5 fill ratio. The entire compass of technical skill needed after that was to point the camera at the subject and press the right forefinger. The reward was files that needed no fiddling.

Which did not stop me fiddling, of course… I am like you – you would fiddle with the WB slider and the shadow fill and the exposure even if it was perfect. I went further and added the effect in Alien Skin Snap Art 3 that made a watercolour of the Pensioner Guard. And the lettering. Hey, this is photography and you and I and the entire staff of Camera Electronic love it.
We're not alone. The cheerful tourists are a Fujfilm couple – She's an X-E2 with 18-55mm lens and he's an X-T1 with a 27mm lens. We cheerfully agreed upon it as a perfect choice for the day. SO nice to have someone else re-inforce your prejudices…
The great thing about this is that you can grab the cameras right now at a very good price from Camera Electronic ( ooh, that means you'll be getting the X- E2s for even more fun ).
Fujifilm Australia is also offering cashbacks on lens purchases for the next couple of months. Perfect timing to add a new one to your camera bag or clap it onto a new Fujifilm body. Hop to it while spring is still here and the outdoors is still livable.