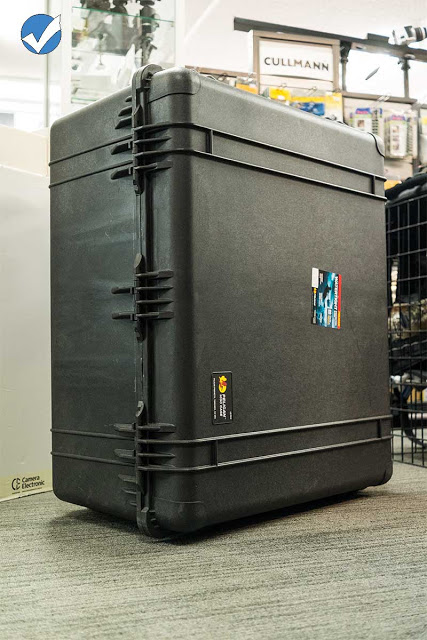 06 Sep

Space Invader

Bom. Bom. Bom. Bom. Bom…

Well it's not that bad. I came upon this Pelican case in the shop today. It is the 1690 case and it is the biggest thing you have ever seen that was never a Queensland road minister. It is so big that there are expensive Parisian apartments in a good arrondissement that have less interior space. It is so big that you need council permission to keep it on the front lawn.

In short, it holds a lot of gear.
The actual interior capacity is quoted as .191 cu metre or 6.73 cu ft. It has enough capacity to take far too much gear. If you are addicted to loading everything you own into one box, this is the box.
It has all the usual Pelican waterproof construction – O rings and latches and well-spaced hinges. The length of the box is such that Pelican have included a supplementary tongue and socket to prevent the case wall and channel from moving sideways.
The carriage side is also extremely strong – note the cast polypropylene feet to keep the retractable handle mechanism out of the dirt. Also please note that the end handles are made with recognition that this will be a four-handed lift once full.
You may be forgiven for thinking that it looks a little like the black monolith in " 2001 – A Space Odyssey "…
And finally the interior contents. That is a great deal of Pick and Pack cubed foam – configuring this one will take a couple of days of planning before you start digging out the space for your gear. It pays to make paper templates and to think in 3D like a Tetris game before you start. You can get replacement panels for the three foam levels but if you plan ahead you will be happier.
Pelicans can withstand the toughest treatment while protecting the equipment entrusted to them. What is really needed with this one is a Model A luggage rack to strap it to – ask the staff to order one for you. The 1929 sedan model is very popular in Chicago. Doesn't show bullet holes…

www.cameraelectronic.com.au