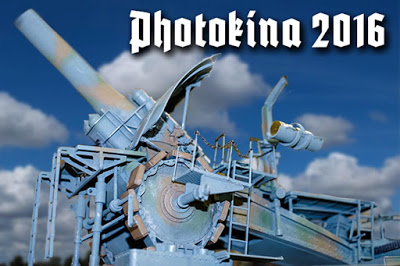 19 Sep

Photokina 2016

Here it comes, folks. The biennial German trade fair, Photo Kina, for all things photographic. Clatter down off the fire-step into the dugout and hunker down…expect gas…

If you are an fan of the forums and the rumour sites you will know exactly what the new gear coming out will be – and I'll bet you have debated it at length at your camera club… championing the brand name or system that you own over all others whilst covertly calculating how much you'd get as a trade in if you swapped to something else. The answer to that is simple; not enough. But that won't stop you…

If you have wangled a leave pass and a European plane ticket and a fold-up cot in the corridor of some German hotel, you can be off this coming week to the show with the gleeful anticipation of a dose of jet lag, beer lag, and sore feet at the end of it all.

The smug superiority that you used to be able to exhibit when you came back is a little dimmed these days as most of the big exhibitors hold press conferences that go world-wide in a flash. You won't be able to bring back secret world-shattering news as it will have preceded you by days – but you can bring back brochures, pamphlets, trade samples, souvenir pins, throwaways, and as many images as you can cram onto the cards in your cameras. Also gastro and scammed credit cards, so beware.

Cameras? You're going to take three – one for just happy snaps, one for serious work, and one for insurance in case the others fail. This will involve taking three chargers and leads and an enormously complex plastic plug that almost fits into continental light sockets. You will lose two of the chargers and one of the cords, but that damned converter plug will remain with you for the next 15 years…

One thing to consider: for years you have puzzled at the instruction manuals that are packed with the cameras and at the way they use English. You have wondered whether the people who write them can actually speak English at all. Well, you're about to find out. If you have some spare time and can find a person who speaks Greek, you might take them along to the trade stand of a Chinese manufacturer who is trying to sell at a German trade show and get them to ask a technical question in their native language. It's mean fun, but it's still fun.

Note: All of the above is powered by a strong sense of jealousy on the part of this hack writer. Perhaps in two years time…

Our directors are on the ground at Photo Kina this week so see all the news on the Camera Electronic Facebook page as it rolls in!