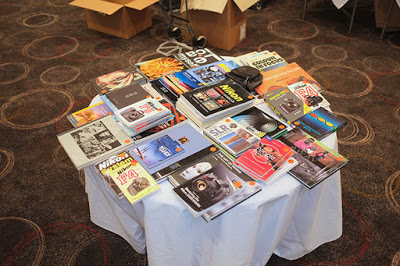 25 Jul

Uncle Dick's Hot Wash Up – The Photo Live Expo 2016

I hope that all the people who visited us yesterday down at the Novotel Langley hotel got home safely and slept soundly – I know I did. It's because I had a happy day.

Tasked with minding the table with the old books o n it, I still had time, thanks to assistance, to tour the rest of the trade room exhibition. What I found were very friendly industry representatives and a pretty good selection of current equipment and materials on offer – and there were a few surprises for me as well. I'll detail them later in the week.

But was I'd like to say for Monday morning is how well-behaved the crowd of visitors was on Sunday. Not that we expected a soccer riot or anything…what I mean is the tenor of the conversations and questions I participated in or could hear seemed to be very pleasant. I know I don't talk all that much at a bookstall as I tend to bury my nose in the stock and read what it says in there, but lots of people called by and had interesting things to say.

It looked as though that was the case on the other trade stands as well – particularly when a new item like the Fujifilm X-T2 was lurking there amongst the other goods. I was an honourable employee and did my duty and did not spend all my time poking away at the X-T2 but I can tell you that it will be an interesting thing to play with when it comes into ready sale.

Someone remarked during the day that – worldwide – the photo trade is supposed to be shrinking. They cited cell phones as the reason – then general economics were mentioned – then world terrorism (?). They might as well have blamed garlic or the letter "Q" for it… From the looks of the crowd that surged through the Novotel, the trade is doin' fine. Remember that this was a cold Sunday and the hotel was not on major train line and we still packed the room – packed it with people from 35 miles away in some cases.

For myself, I was more than happy to see that a lot of the books went off to new homes. Some of the literature was not old enough to be historic nor new enough to be relevant…but in nearly every book or magazine there was something that could make the reader think. And thinking is what really starts photography going.

More on the Photo Live Expo 2016 later in the week. For today, here is the new Fujifilm X-T2. It exists!