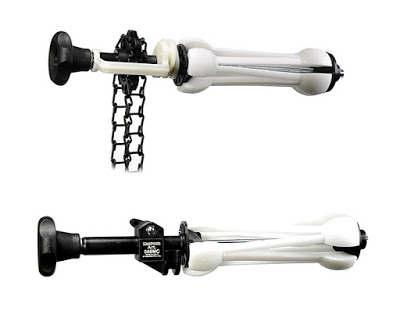 05 Apr

How To Expan Your Mind

That's not a typo – there are no "d's"in Expan when Manfrotto make them. And you don't need "d's" – the apparatus is perfectly functional as it is.

The EXPAN 046 drive is Manfrotto's way of slinging the large rolls of paper or vinyl backdrop material between two supports. They are imaginative in this – there is a single hook for direct attachment to the top of a standard light stand or you can attach multiple hooks to a 035 Super Clamp and control out two or three rolls.

Studios who regularly move from white through grey to black for fashion, portrait, or product shots will appreciate the triple hooks. It is the work of a moment to run one up and another down. The users of vinyl backdrops will have to be aware they are heavier than the paper and will need to be taped more firmly to the cardboard core before full unrolling.

One thing that new users of the paper rolls do not realise – they become brittle with age. If you lay out a roll of paper for a long enough period it will start to tear at the edges and at the front. This can be minimised if it is always on an Expan holder – up and down for years. If you can keep the models' dirty feet off the paper, all the better.

For the adventurous and well-heeled, Manfrotto also make an electric-drive version of the Expan. You operate the rolls up and down from a digital control box at the side of the studio. Pure genius.
Note that it is indeed possible to change all three rolls of Superior 2750 roll paper on an Expan outfit by yourself – you need a step-ladder and a methodical approach but it is not hard. Where you store the extra rolls is another matter.
Please also note that it is possible to use Manfrotto Expan components to put a backdrop up in such a way that the heavy rolls of paper are near the floor and loop up and over a cross bar at ceiling level. A little more trouble to rig initially but the changing of the rolls is easier.
Also note that sometimes muslin backdrops can be rolled up on empty Superior cardboard cores, so save your next one after you use up the paper. Takes a bit of practise to get the muslin on it evenly.
Manfrotto are about the best manufacturer of studio gear there is – at least of gear that is readily available in Perth. You can count on the equipment to do exactly what it says it is for and if you are at all imaginative you can get it to support new ideas in ways that the maker never thought of.
Manfrotto never goes astray.