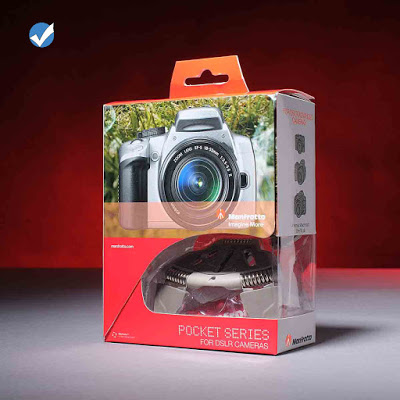 21 Mar

When Every Ounce Counts…With Manfrotto

When every ounce counts…pounce…

Pounce on a Manfrotto pocket series camera support. Here's the medium size for DSLR and mirror-less cameras.

If you are going to travel by air this year you'll undoubtedly look at the weight restrictions that the airlines put on baggage. The quest for lightweight tripods is never-ending and of course Manfrotto make those too…but the pocket series takes weightlessness seriously – and depending upon where you go and what sort of pictures you take, it might be the money-saver you need.
It bolts in under the camera body using the standard 1/4″ tripod socket. There are three slots under the support so you can place it under the centre of the lens or body no matter where the camera maker has located it. The tough little metal legs with the soft padding fold up under the body when not in use.
When needed, out the come. there is enough spring tension in the legs to let them be adjusted for various heights and angles- you can straighten the camera out if the surface under it is slightly slanted. Of course the legs suggest a table top but remember that car bonnets and roofs are always available, as are rocks, fenceposts, and stone walls. Note that it supports the Fujifilm X-E2 even with the weight of the latest firmware update…
You can easily do the old newspaper trick of pushing the camera up against the door frame or wall and hold it steady yourself.
This is ideal for selfies. If you must.
Now lots of people go off on photo vacations with the adventurous image in mind of someone with a tripod attached to the back of their pack like an entrenching tool. Looks cool, but is an absolute royal nuisance 99% of the time as you try to stand in line of sling the pack off of baggage carousels. Play it smart and keep one of the Manfrotto pocket supports bolted onto the bottom and save the space in your luggage for the duty free.
For all you travel needs and space requiremnents come in and talk with our helpful staff 🙂