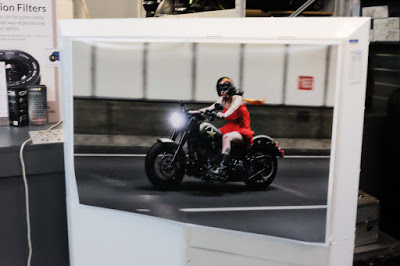 31 Mar

Motorcycle Mike On His Souped Up Bike

Well, not really – but that was the title of a track by Dave "Diddle" Day in 1957 and the chance to use it may never come again…
Wednesday night at Camera Electronic and we saw what happens when a hot rod guy gets a hot rod camera – in this case Stefan Gosatti and the new Nikon D5. It was a perfect combination.
Stefan was given a chance to try out this brand-new top-of-the-line sports and action camera by Nikon – their high-speed flagship – on the road and on the football field. It was a quick trial but he was just the man who could give an accurate report.
Stefan has used Nikon professional cameras for years with fashion, sports, automotive and product illustration. The bran-new Nikon D5 is the latest evocation of their big full frame DSLR and he got a chance to wring a lot of it out. Not all – by his own admission, there were a lot of new features he did not have time to fully explore…but with the items that pertain to his professional specialties, he was able to go to town.
The prints you see in the small snapshots are from that camera – they are mere reportage representations of what are large, excellent images. Sharp, fast, and with very good colour and dynamic range. And at ISO points that are normally accessed only with oxygen and a nose bleed. While he shot his fast lady on the bike at ISO 6400, the device will go to over 3 million ISO! It's nearly impossible to think of a situation that would not be possible with that sort of camera sensor.
Of course it is never only the sensor – it is the new processor as well.
This also accounts for the rapidity with which the AF system works and the sophisticated nature of the tracking that allows the user to select what he wants to follow and then delivers sharp focus on that in spite of movement and visual interruptions.
It is also the reason that the screen on the new camera can be made to be so convenient for the photographer when it comes time to examine a sequence of shots. The high-speed nature of the shutter and associated buffer and writing circuits mean that a lot of images are going to be stored rapidly – and the photographer needs to be able to access these equally rapidly. Stefan demonstrated a scrolling bar on the LCD screen that runs rapidly through the files, allows you to stop as soon as you see a good one and then zooms, widens and searches throughout the image with the same sort of finger gestures that control smart phones.
The cameras are equipped with twin card slots – and these can be ordered with either two CF card slots or two XQD slots. Readers will be aware that the XQD cards are faster than the CF cards by a fair margin, but are more costly. Of course, a lot of people will have lots of CF cards already, so these can be utilised straight away. Camera Electronic can supply CF-ready D5 cameras right now – either in sales or rental form. XQD can be ordered but may take a little while to arrive. People who get one type and change their mind about it can have the camera converted here in Australia to the other sort for a fee.
Speaking of two different items – apparently the D5 will also produce 2 different forms of JPEG files as well as the NEF file type.
Well, they are not cheap. You can see the price on our on-line store or ring up the staff and discuss it. Think in terms of about $ 8900. If you are in the business of doing the sort of photography that these cameras do, that money is a business investment. If you are dabbling but have that sort of figure available to play with you can be assured that you will have an instrument that cannot be bettered for high-speed action photography. You'll need to put good Nikon lenses out the front and they will also cost money.
PS; No motorcyclists were injured and no laws were broken in the making of the pictures, but apparently half the dress blew off. Makes your afternoon photographing Canal Rocks sorta slow, doesn't it?
For all orders on the Nikon D5 please call in or follow the links on-line.