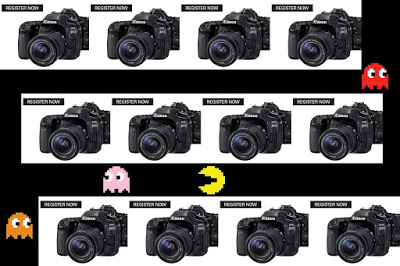 18 Feb

Canon Launches Forth – Part Two

Well it isn't just the big, heavy Canon cameras that are bursting out into new models – Canon Australia will be bringing the new EOS Canon 80D camera to Camera Electronic on March 3rd at 6:00 PM.

The launch will show the new crop-frame Canon EOS body as well as the new 18-135 lens that is set to pair with it. And the whole presentation will be with the expert guidance of Stephen Scourfield.

Stephen is the travel editor of the West Australian and a consummate photo shooter. He's been advising Western Australians for years about the best way to maximise the potential of the digital camera for our memories, and he's had a chance to see just how this new Canon performs.

Of course, being Canon, and being for travel, the video component of the new body has really come to the fore. New Auto Focus performance, new flicker-free shooting, new higher ISO capability extend your video shooting into scenes that were never possible before. Audio pickup facilities have advanced as well.

The night has representatives of Canon Australia, Camera Electronic, and Stephen – it also has food and drink, but you'll be wise to RSVP through to the shop to tell us you're coming so that we can arrange for the beer tankers to get down the side of the building. That and the sushi and sausage roll cars that shunt in on the private railway spur. These things take organising, you know.

There would appear, from the press releases, to be a new 18-135 zoom lens and a power zoom adapter that will be made to assist the videographers. Heaven knows how the latter works but it should all resolve itself when the representatives start the cameras going round the room.