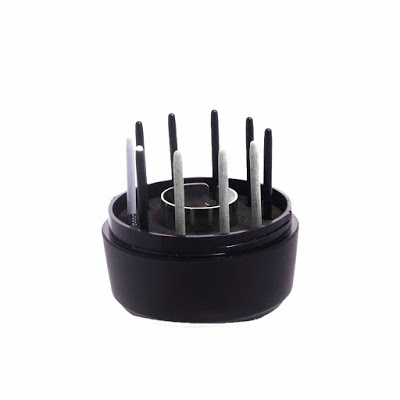 13 Aug

Hidden Asset – The Intuous Ink Well

Wacom Intuous Pro graphics tablets are wonderful. They let you edit pictures and do artwork on the computer screen with a facility that far exceeds that of the mouse and a precision that baffles the trackpad. They are electronic drawing pads and if you have any dexterity at all – or can develop it – they make it your artwork…work.

The kit that comes wit the Intuous Pro tablet has a stylus or pen that really is pen shaped – fits the hand well and has the heft of a real instrument – it also has a pen-rest that is shaped like a little fake ink well. Fun to use, and a real comfort at the end of an unsuccessful editing session; you can slam the pen down into it and stalk off…

But it also has a secret. Unscrew the base of the ink well and these stylus tips appear. There are a number of plain plastic ones that you can use for everyday poking but several – the grey ones that you see in the accompanying image – are made with a different texture. Some actually feel like a felt tip pen! There is also one that has a rubber tip for use on iDevices like screens and pads where you poke away instead of using your finger.

The central well of the stand has a metal ring that functions as a set of tweezers to pluck out and replace the different styli.

It's a clever sort of accessory for a clever sort of product.