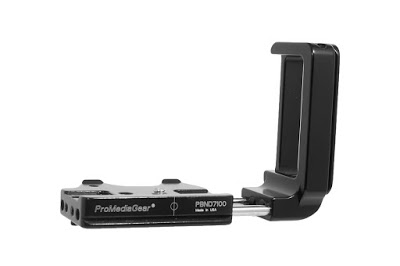 05 Aug

An " L " Of A Good Idea
We recently added a range of " L's " to our shop. Users of some Sony, Canon, and Nikon cameras will benefit – particularly if he want to do landscape or studio shots. Or both together*.
The "l's " are cast metal brackets that fit onto specific camera models to allow them to have an Arca-Swiss mont on the bottom. and the unique feature of these is that you can have the same mount out to the side.
We've seen somewhat similar things from some on-line merchants – but they are generally solid castings without the adjustable features of these.
The ProMediaGear bracket you see here is cast for the Nikon D7100 camera. The twin steel rails allow the side mount to be placed further from the side of the camera – in case you wish a higher viewpoint for the portrait orientation. This also allows those people who use the side mount as a way of slinging large flash units to move them away from the lens axis. Once you find out where you want to go, you tighten up the screws.
Note that the upright casting has a hole in it and a samarium magnet to hold an Allen wrench so that you can unfasten the things.
There are numerous 1/4″ tapped holes here and there to sling other things.
Altogether a well-made and intriguing product.
* I do. Making mountains is fun.