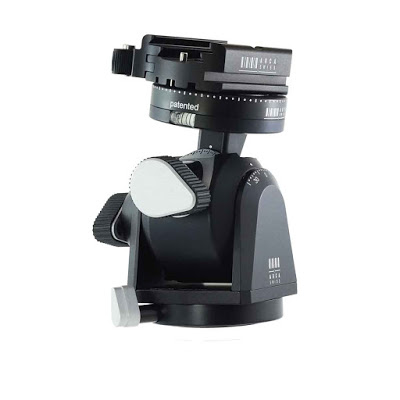 10 Jul

French Head – Arca-Swiss d4m

I have no idea. Perhaps the Arca company was originally Swiss and now they are French. Whatever the explanation, the pan and tilt head pictured here is a gem.

Don't be fooled by first looks – that is a pan and tilt rather than a ball head ( which they also make…) in a compact and precise form. It is also a panorama head.

The pano section is the top layer. It has an Arca mount, of course and this is one with a quick-release lever. It spins around freely with degree markings and an reference pin
there are two bubble levels at 90º to each other to facilitate levelling this part for the panorama.

Below this the tilt mechanism allows for straightening of horizons and has a very positive lock. The stem casting is a good 1cm x 1.5 cm of metal and should cope with the largest of cameras and lenses.

Mind you, this is nothing compared to the size of he cast metal barrel below this that lets the assembly tilt. – it all sits in a cradle rather reminiscent of a gun mount or an astronomical mount. Under the lot is a second turntable for 360º movement. Standard 3/8″ screw socket.

For whom is this head intended? I should say landscape shooters who have the largest and most complex DSLRs – the 50 megapixel types – that have a certain weight and need very precise movements. Or studio workers with the same sort of high-end equipment.

Or people who just love precision machines.