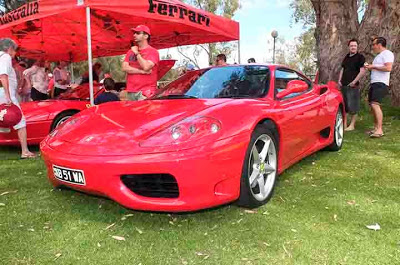 04 Nov

Free – One To Every Customer. Some Restrictions May Apply.

Are you a small camera user? Do the operators of bigger cameras look down on you? Does your brother-in-law push his big zoom lens in your face and laugh?

Take heart – now you can fight back with Fuji. The Fuji X series are small cameras. They are handy and fast and light. You can take them anywhere where they won't fire bullets at you. You can look as cool as by wearing the latest designer clothing and sunglasses and shooting pictures with them. You can use the terms "bokeh" and "social responsibility" and "gluten-free" in the same sentence. They are legal in Canberra.

And if you buy an X-20 or X-E1 or X-M1 from our shop you are entitled to a Ferrari. And not just any old Ferrari – you get a copy of the photograph of the Ferrari that you see at the top of the page – printed out on Epson paper and signed by the world-famous international superstar ambassador mentor writer who took the picture. Oops, sorry – that is " hand crafted the image ". With his own hands and a Fuji X-10.

If you buy an extra lens you get a picture of a Maserati as well. Even your brother-in-law can't beat that.