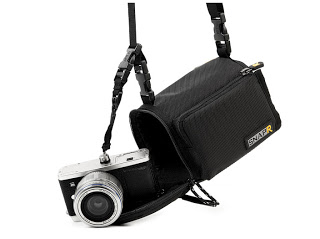 01 Jul

Black Rapid SnapR 35

For those who are familiar with Black Rapid and their range of sling camera straps should already know about their genius SnapR camera bag/strap combo. Well now Black Rapid have introduced another fantastic bag to their SnapR range… the SnapR35, a wider version of our popular SnapR bag, this is the perfect solution for carrying your Micro Four Third or larger compact digital camera.

SnapR combines BlackRapid's revolutionary sling strap concept with a durable, padded camera bag. Your camera rests upside down, attached to the strap, ready to slide into shooting position. Grab, Glide, Click.
Camera glides from bag to shooting position
No worry of dropping or forgetting camera
3 in 1: BAG + SLING STRAP + HAND STRAP
Use all 3 together or independently
Pocket on each side for phone, accessories, etc.
Fits cameras up to 6″ x 3.75″ x 3.5″