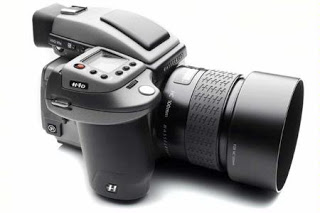 20 Apr

Hasselblad H System Available at New Low Price!

Medium format digital cameras are expensive right? Well yes, they are pretty pricey, but it wasn't too long ago when the gap between a pro 35mm format digital camera and a medium format digital camera was enormous. On top of the extra tens-of-thousands of dollars you would need to drop on a medium format system you then had to contend with slow performance, less than intuitive user interface and a high ISO performance which was pretty dismal.

Now days things are all different, The Hasselblad H4D-31 now offers many of the conveniences of smaller format cameras with the advantage of a big sensor packed with 31 million of the best pixels money can buy. Sure it's still slightly more than a pro 35mm body with a nice zoom lens but now days the few thousand extra buys you a whole lot more camera.

Pictured: Hasselblad H4D-31 with HC 100mm f2.2

The Hasselblad H4D-31 is now only $15,995inc GST and comes complete with a HC 80mm f2.8 lens, an absolute bargain if you look at what the money buys you!

Firstly and most importantly, in digital photography the advantages of large format cameras have become even more obvious. The basic 6 x 4.5cm design allows the H4D-31 to use one of the largest image sensors currently available in digital photography. Consequently the sensor holds more and larger pixels, which deliver the highest possible image quality in terms of moire-free color rendering without gradation break-ups in even the finest lit surfaces. The camera also boasts a basic ISO rating of ISO 100 to ISO 1600. The H4D-31 also offers new levels of speed through the use of new high speed capture architecture capturing full size images at the rate of 1.1 seconds per capture, working either mobile or tethered to a computer. The combination of these features makes the H4D-31 a natural choice for the professional commercial photographer wanting to work with high image quality within a camera system that supports ultimate creative expression in order to deliver outstanding images to satisfy the most demanding customer.