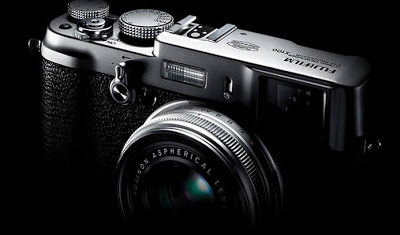 11 Feb

Fuji X100

So Fuji have finally given us the go-ahead to put an order in for the much anticipated X100 classic style camera. For those tech-heads out there I'm sure you're already a full bottle on what the X100 is about and what it can do but for those who aren't read on…

The X100 features a 12.3mp APS-C CMOS sensor. These are commonly found in most consumer DSLR's and some of the new 'EVIL' (Electronic Viewfinder, Interchangeable Lenses) cameras (Samsung NX10, Sony NEX) boast about having this size sensor. To compliment the sensor Fuji have incorporated their new EXR image processor. According to Fuji the X100 & EXR achieve the highest image quality in the history of Fuji… that's a pretty big call, but by the looks of it the're confident that this camera will delivery the results you've been searching for. ISO sensitivity range from 200-6400 with the ability to boost to 12,800! gives you flexibility to shoot in low light conditions without the need of flash. The body is made of die-cast magnesium alloy and features all metal dials means this camera is anything but flimsy & with a traditional film camera look it's sure to grab the eye of any enthusiast photographer.

The eye of the X100 is a 23mm f2.0 Fujinon fixed focal length lens… in 35mm film terms that equates to a 35mm f2! Fuji have produced this lens to work in perfect harmony with the APS-C sensor. Once again leading back to amazing image quality and precision. With an F2.0 aperture this makes shooting in low light situations even easier & gives you the ability to shoot with a shallower depth of field. Giving you sharp images with a dreamy out of focus background… and who doesn't love that? With a traditional look to it and aperture selection on the lens itself, it's made to be fast, simple and accurate. With no telescoping parts, from the moment you press the power button its as ready as you are.
Another big new feature that Fuji are proud to announce is the introduction of the world's first 'Hybrid Viewfinder'. This enables you to not only see the world through an optical viewfinder but also have the ability to switch over to electronic viewfinder mode with image info on the bottom. In EVF (electronic viewfinder) mode it features a 1.4mp LCD… for those of you who don't really know what that means for you, it equates to a bright, sharp EVF.
Fuji have made it pretty clear that another critical factor of the X100 is simplicity… the control dials are easy to read and remember & with dedicated buttons for RAW, AF/MF & more it leaves nothing more for you to think about but the subject you are photographing. But don't let that trick you into thinking that the X100 is nothing but a manual digital 'rangefinder style' camera. With built in film simulation filters you can apply characteristics from Fuji Velvia, Astia & Provia films to enhance your images in camera. It also can do 720p HD video with an Aperture priority mode or AE mode in video giving you flexibility to shoot video just as you'd shoot photos. Also with a built in HDMI port, connecting to a HD TV to showcase your images and video is anything but a challenge.
Last but not least… the price. Coming in at just under $1300 its sure to be a popular competitor in the digital photography market. email sales@cameraelectronic.com.au, call (08)9328-4405 or come in and speak to one of us to secure yours or arrange a demo.