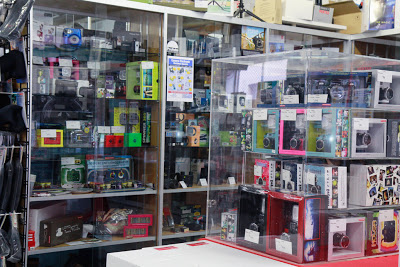 08 Dec

A Very Lomo Christmas to you all!

Christmas is the season for giving and what better than giving the gift of nostalgia? LOMO cameras and flashes are 50-megaton blasts from the past – updated with new designs and colours. And the best part is with LOMO every shot is a work of revolutionary art!

Forget the f.stops and the flash factors – because LOMO certainly have. You just set the tab to normal ( LOMO normal is everyone else's wild and crazy) and shoot away. This is film we're talking about so you don't have to let everyone peer into the back of your camera after every shot – the time you save is invaluable. You can use it to sweep snow off the streets with a twig broom.

When you get the results back from the mini-lab and the laughter dies down, you will appreciate why Soviet Engineering in the New Era. It is a perfect triumph of science and propaganda…Photographers of the world, Unite! You have nothing to lose but your inhibitions!