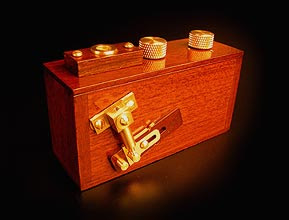 01 Jul

Only two of these great Zero Image handmade wooden pinhole cameras in stock.

We have the Zero 135 which takes 35mm film and the zero 6×9 which takes 120 roll film and can shoot in 6×4.5, 6×6 and 6×9 formats. Both cameras are real collectors items as well as functional cameras. All hand made in Japan and coming with an individually signed and numbered certificate of authenticity these cameras have a huge amount of old world charm and the fine craftsmanship shows. Don't miss your chance to own such a beautifully crafted camera, come in today to purchase one.

Don't be fooled by the good looks, the images they produce are great and have a very unique quality to them. You can view images shot on these cameras by people around the world on Flickr here.