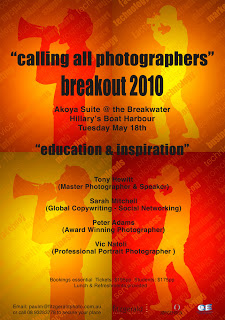 10 May

Breakout at the Breakwater!!

Don't forget to secure your ticket for Breakout at the Breakwater on tuesday the 18th of may.

Featuring Tony Hewitt, Vittorio Natoli, Peter Adams and Sarah Mitchell. Come along for a great day of inspirational speaking and tips to make your passion for photography boom.




Tickets are limited but so get in quick, for ticket sales call the shop or Paul on 9328-3778.